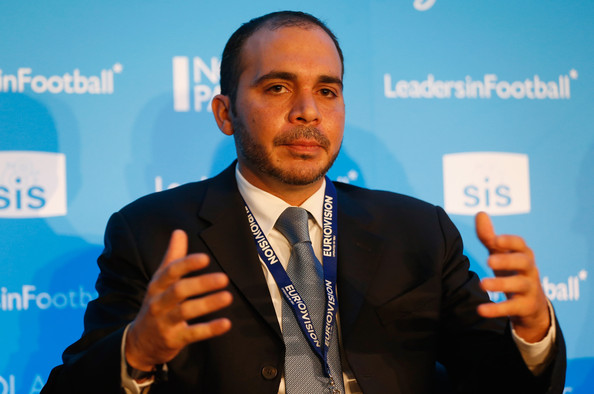 By DAN KARELL
A new challenger has emerged to Sepp Blatter's FIFA presidential campaign.
On Tuesday morning, FIFA Vice President Prince Ali Bin Al Hussein of Jordan announced his intention to run in the 2015 FIFA presidential election. In a statement, Prince Ali claimed that due to the many controversies surrounding FIFA, it's time for a change in leadership.
"I am seeking the presidency of FIFA because I believe it is time to shift the focus away from administrative controversy and back to sport," Prince Ali said on the Jordanian FA's website. "This was not an easy decision. It came after careful consideration and many discussions with respected FIFA colleagues over the last few months. The message I heard, over and over, was that it is time for a change. The world's game deserves a world-class governing body — an International Federation that is a service organization and a model of ethics, transparency and good governance.
"The headlines should be about football, not about FIFA. FIFA exists to serve a sport which unites billions of people from all over the world, people of differing and divergent political, religious and social affiliations, who come together in their enjoyment of 'the world's game.'"
Prince Ali has joined Sunil Gulati in recent months in calling for reforms, including the full publication of the FIFA ethics report compiled by Michael Garcia. Ali has been involved in soccer since 1999 when he became president of the Jordanian FA, later becoming a vice president in both the AFC and FIFA.
Prince Ali is campaigning against Blatter, who is attempting to win his fifth FIFA election, and Frenchman Jerome Champagne.
Here's some more stories to kick off your Tuesday:
REAL MADRID TO REST SERGIO RAMOS
Real Madrid will be slightly shorthanded heading into the first leg of the Copa Del Rey Round of 16.
Facing intracity rivals Atletico Madrid, Real Madrid will be without starting center back Sergio Ramos, according to a report in Spanish publication Marca. Ramos is being rested after starting in Los Blancos' rare defeat to Valencia on Sunday.
In Ramos' place, Raphael Varane will start alongside Pepe in the match at the Vicente Calderon on Wednesday.
"I might make some changes," manager Carlo Ancelotti hinted at his press conference on Tuesday. "There are players who have not recovered. But I will go with the best team possible."
CLUB AMERICA'S BENEDETTO TO ACQUIRE MEXICAN CITIZENSHIP
New Club America signing Dario Benedetto has expressed his desire to acquire Mexican citizenship, and even potentially play for the Mexican national team.
Signed from Club Tijuana this winter, Benedetto revealed that he can acquire a Mexican passport this summer and would be interested in playing some day for El Tri, over his native Argentina.
"I would be happy (to play for Argentina), but if I naturalized, that possibility had some Argentines to defend the shirt of Mexico, it would be an honor for me, but more for the future," Benedetto told ESPN Deportes.
"I do not rule out the possibility (of playing for El Tri). (If) I'm called up to the national team from here, the truth is I would (play) with the same enthusiasm and as proudly as if it were my country."
QUICK KICKS
AFC Fiorentina are interested in signing Borussia Dortmund's veteran goalkeeper Roman Weidenfeller in the summer. (REPORT)
Keylor Navas will start the remaining cup matches this season for Real Madrid. (REPORT)
Arsenal's Wojciech Szczesny is facing a $30,000 fine for smoking in the showers following Arsenal's 2-0 defeat to Southampton. (REPORT)
Liverpool's Adam Lallana is set to miss a month of action with a thigh injury. (REPORT)
Queens Park Rangers have confirmed the loan signing of West Ham United forward Mauro Zarate. (REPORT)
Pachuca has re-signed 30-year-old Argentine forward Dario Cvitanich. (REPORT)
—————
What do you think of these stories? Excited to see another challenger to Blatter's presidency? What do you think of his chances? Do you see Real Madrid struggling without Ramos?
Share your thoughts below.