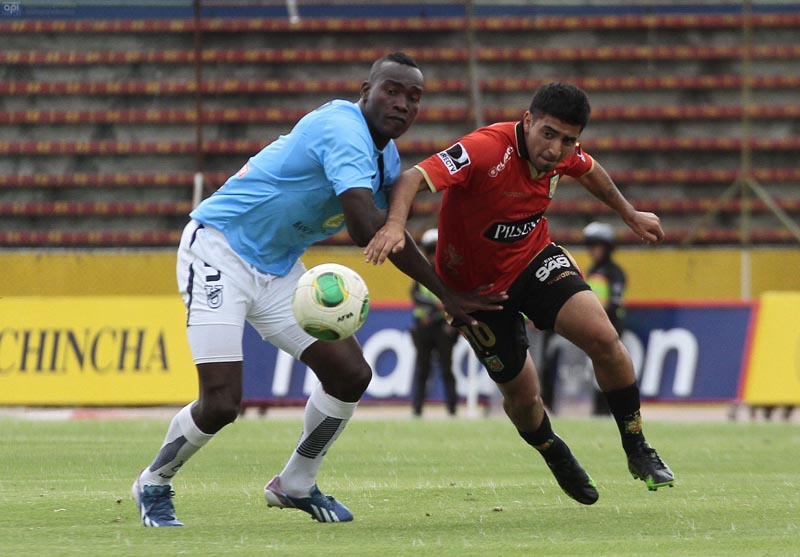 By DAN KARELL
New York City FC are hoping they've unearthed a new South American gem to bring to Major League Soccer.
Using City Football Group's extensive scouting network, NYC FC announced on Monday that they have signed Ecuadorian defender Andres Mendoza to a contract. Mendoza last played for Deportivo Maldonado in Uruguay's second division, making nine starts in 11 games.
"We're delighted to add a defender of Mendoza's caliber to our growing roster," head coach Jason Kreis told NYCFC.com. "Andrés is an exciting prospect; he's young, strong in the air and very athletic. He's also a good passer which will be a great benefit to us as he can play the ball out of defense.
"He really ticks all the boxes that our coaching staff looks for in defenders. I'm confident he will reach his full potential playing in Major League Soccer and will make a positive impact on this league."
Mendoza, 25, played recently with Ecuadorian giant Universidad Catolica, and made one appearance in the Copa Sudamericana in 2014 for Universidad.
Here's some more news and notes from around MLS:
IMPACT REPORTEDLY OFFER GILARDINO TWO-YEAR CONTRACT
The Montreal Impact have continued their pursuit for Italian forward Alberto Gilardino, and this week more details are emerging.
According to a report in Italy's Gazzetta Dello Sport, the Impact have extended Gilardino a two-year contract to make a full transfer to MLS. Gilardino, 32, is currently a member of Chinese Super League club Guangzhou Evergrande, where he scored five times in 16 appearances in all competitions between July and November.
If Gilardino comes to the Impact, he'll join Marco Donadel as Italians on the roster. The pair are following in the footsteps of Marco Di Vaio and Alessandro Nesta, who both finished their careers with the Canadian club.
RIDGEWELL SET TO JOIN WEST BROM ON SHORT-TERM LOAN
Liam Ridgewell will pass the time during the MLS offseason with a short-term stay at his former club.
The Portland Timbers center back is reportedly set to join West Brom for a loan stint ahead of the 2015 MLS season. Prior to joining the Timbers, Ridgewell was a member of West Brom for three seasons and made 76 appearances with the club.
With the loan, Ridgewell will miss the start of the Timbers' preseason training camp, but the center back will be back with the club in time for the club's annual preseason tournament that is set to begin on Feb. 22.
NINE MLS PLAYERS INCLUDED IN CANADA U-20 SQUAD
MLS will be well represented not only through the U.S. Under-20 Men's National Team but also through Canada's U-20 team at the CONCACAF Championships this month in Jamaica.
Canada coach Rob Gale called up nine MLS players in his Canada U-20 squad, including five Vancouver Whitecaps players and two from each of Toronto FC and the Montreal Impact.
The MLS representatives are Whitecaps goalkeeper Marco Carducci, midfielders Kianz Froese and Marco Bustos, and defenders Sam Adekugbe and Jordan Haynes, TFC's Jordan Hamilton and midfielder Manny Aparicio, as well as the Impact's Louis Béland-Goyette and Jérémy Gagnon-Laparé.
————
What do you think of these notes? What do you think of the Mendoza signing? Do you see Gilardino leaving China for the Impact? What do you think of Canada's U-20 squad?
Share your thoughts below.