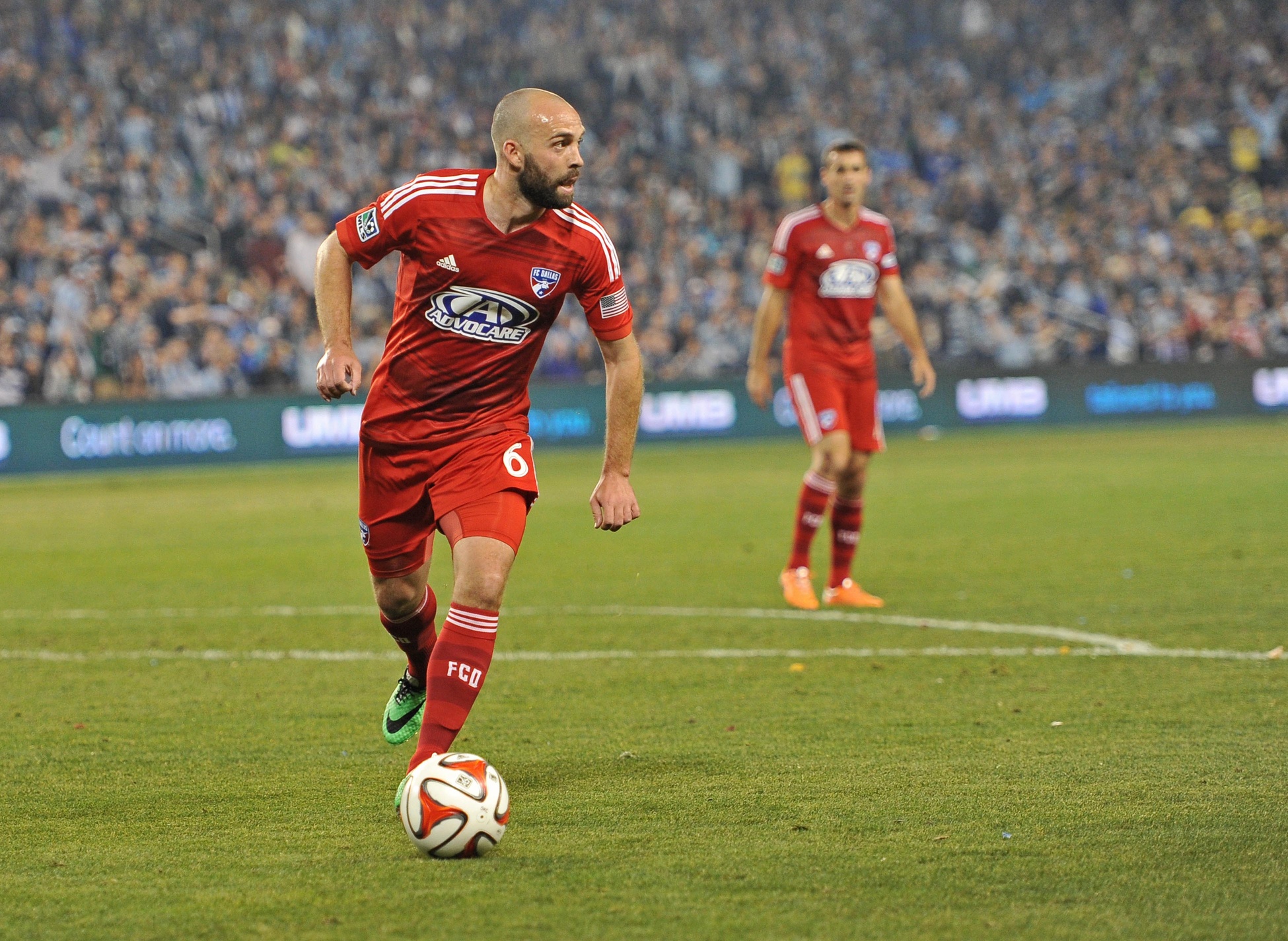 Photo by Peter G. Aiken/ USA Today Sports
By RYAN TOLMICH
As a free agent, midfielder Adam Moffat had options. Several clubs were interested in the veteran midfielder, who boasted eight years of MLS experience, but Moffat was looking for something special.
Moffat, a 28-year-old defensive midfielder, who hails from Glasgow, Scotland, found everything he was looking for in the New York Cosmos. Moffat was looking for ambition, for passion, for excitement, and that is exactly what the midfielder believes he has found in his new team.
"With my contract at the end of the year, a few teams, including MLS teams, were interested and New York was one of them," Moffat told SBI. "They're an ambitious team. I spoke to (head coach Gio Savarese) and he told me how things are and the style of play. They excited me and they really pursued me. They really wanted me to be there. I spoke to my wife, I spoke to my family about it, and it just seemed like the best fit."
Part of the allure of the Cosmos, at least in Moffat's case, came in the team's recognition on the global scale. As a native of Scotland, the Cosmos have a name that resonates with Moffat's countryman and the ambition to continue to push the boundaries of what an NASL side can be.
"They want to win. They make splashes and it's obviously a team that's a global name," Moffat said. "They're known worldwide and I think, with the addition of Raul, you're still getting that global recognition all around the world. I think it's great.
"People in Scotland, everyone knows about the team over there, and you don't find that with teams that are even in the top level. I just say they're ambitious and they want to do things right and they want to win, and that's what I look forward to."
Moffat, who featured 20 times for FC Dallas last season, understands exactly what he needs to do to be a part of those wins. The midfielder has developed a reputation for scoring with a series of long distances finishes with goals that have been aptly named "Moffat Rockets". Despite his flair for the spectacular, Moffat understands that his defensive ability, not his goalscoring, will continue to be his bread and butter.
"I think it's similar to what I've been (through) over the last seven or eight years in MLS where I don't contribute many goals," Moffat said. "Hopefully a few, though, some really nice ones. I just kind of break things up so that those attacking players can have that freedom to do that. I'm good at breaking things up, winning the ball back and giving it to the guys up top.
"I'll contribute with my leadership," Moffat continued. "I'm not one to shout and scream. I like to lead by example and work hard and encourage people, so hopefully that does help and I'm sure people can respect that."
In addition to earn his teammate's respect as a player, Moffat is also hoping to earn his team some respect from players and fans all over the country.
Moffat has set some lofty goals for his first NASL campaign. As expected, he understands that the primary targets for this season lie in league play, but that doesn't stop the midfielder from setting his sights on achieving major things against MLS sides in the U.S. Open Cup.
"With the Open Cup in there, I think we have a squad that can challenge any MLS team, so the goal is to really push for winning that," Moffat said. "You've seen teams in the NASL do really well against the MLS, including the Cosmos last year, so we want to advance and, hopefully, win that whole thing to really get our name out there."
On a personal level, Moffat is just looking forward to getting back on the field after suffering through a series of minor injuries with FC Dallas. At 28-years-old, Moffat still believes he has plenty left to offer, while also offering his new team some valuable experience heading into the NASL season.
"Personally, I want to play as many games as possible," Moffat said. "Last year was a little bit stop and start for me. I had a couple injuries that weren't serious, but they kind of slowed my momentum down. For me, it's just getting back healthy. I've been pretty healthy the last four or five years, so I want to keep that going and keep improving.
"I'm 28. I've been playing a long enough time, but you still want to improve. You get a little bit smarter and, physically, I feel like I can still go with the best of them. That, for me, as a player and to obviously win. I've had some success throughout my time in the U.S. and I want to keep that going."