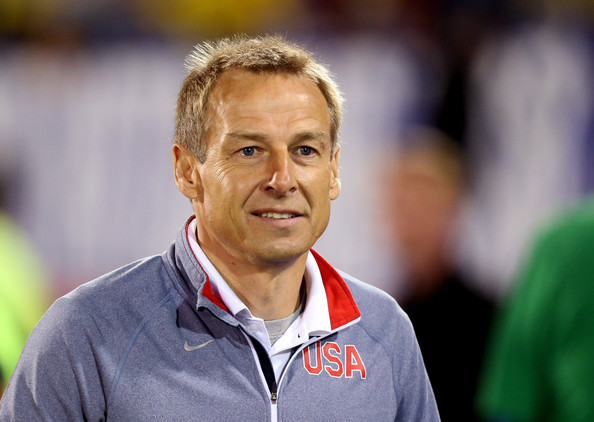 By DAN KARELL
Get ready to see even more fresh faces donning the U.S. Men's National Team jersey in 2015.
In addition to the likes of Rubio Rubin, Emerson Hyndman, and Jordan Morris, a whole host of 2016 U.S. U-23-eligible players will be given their first taste of the national team this month when the USMNT assemble for their annual January camp.
Head coach Jurgen Klinsmann called it his "main task" in 2015, setting up the U.S. U-23 team and avoiding the disappointment from 2012, where the U.S. failed to qualify for the 2012 Summer Olympics in London.
"We will have about 8-10 Olympic team players in the January camp just to come with the senior group and to try to start building them already," Klinsmann said in his first remarks of the new year. "Obviously we have to work out an agenda for them, a calendar for 2015 that really gets them off to a good start."
"The main task for 2015 is definitely the Olympic team, the U-23 team, to get that off the ground. To identify players, get camps on the agenda, get games on the agenda for that team, and help them to kind of build a core group towards the qualifiers. We want to make sure that what happened with London 2012 is not happening again. We put this on a higher priority level and I think that's exciting."
On the back of that, Klinsmann issued a challenge to many of the young players on the cusp of the USMNT, stating that there's no time better than the present to have a breakout season.
"Especially (in) the first part of 2015, where we have some friendly games leading up, we want to see a couple of the younger players breaking through or at least making a mark and making them noticed," Klinsmann said, singling out Bobby Wood and Rubio Rubin as two youngsters who have caught his eye, despite issues on the club level for Wood.
"We want to see younger players taking their game to another level," Klinsmann continued. "We want to see the Under-20 team with Tab in Jamaica for the World Cup qualifiers, who of that group can make it to the senior team. We want to see growth and we want to see those youngsters becoming confident and strong and giving us, coaches, alternatives to the already established players."
While Klinsmann wasn't clear about which Olympic-age players or U-20 players could be making the jump to the senior team, he did confirm that Brek Shea would be given another chance with the USMNT in the upcoming January camp.
After two unsuccessful seasons in England, Shea returned back to the USA and joined Orlando City in a transfer from Stoke City on Dec. 19. Klinsmann hinted though that it could be the last chance saloon for the lanky 24-year-old, mandating that Shea will need to play regular minutes to earn any more USMNT call-ups in the future.
"We see all our players in their own individual situations trying to find solutions and Brek Shea is a good example," Klinsmann said. "He's tried badly to find a solution for quite a while because he couldn't break into the Stoke City team. He tried to go on loan and tried to figure out other solutions and now he found his solution going to Orlando City and starting all over again.
"I think it's exciting because he made the decision himself, that shows me he's starting to grow and starts to take things in his own hands. Hopefully he picks up the rhythm right away in the January camp and going into an exciting first season for Orlando City. I think he understands that he has to play, the players need to play in order to be part of the national team program."
Klinsmann revealed that he intentionally scheduled a grueling first half of the year for his team, with road matches in Chile, Holland, Germany, Denmark, and Switzerland to go along with home games against Panama and Mexico.
Considering the difficulty of the opponents they'll face, Klinsmann admitted that the team could be low on confidence heading into the ultra-important Gold Cup, which will help determine CONCACAF's delegation at the 2017 Confederations Cup in Russia.
It's a chance though that Klinsmann is willing to take in the present time.
"If you play the top teams in the world, you might risk the result," Klinsmann said. "Results obviously matter because the wins give you confidence and especially when you go into the Gold Cup, you need to have confidence to be the No. 1 team in CONCACAF and come out the winner.
"But I think it's more important in the first part of 2015 that we continue to grow as a team, we continue to grow individually, every singly player (understanding) where the higher benchmarks are.
"They understand why they are not where other players that play for Chile, Switzerland, Denmark, Holland, or Germany, why they are where they are. (It's) because they're consistant for 11 months a year. They know how to grind it out. They know how to be focused every four days in a game. They play up to 50, 60, 70 games in a year.
"It's important for our players to understand that it takes a lot more work to one day hopefully catch up with them and beat them. Results matter but in this case I'd rather have a negative result in a growing path."