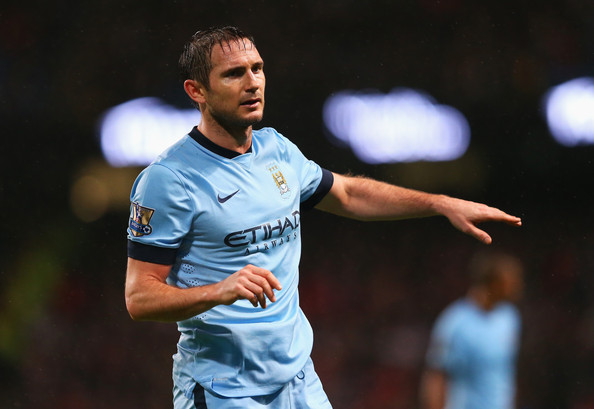 By DAN KARELL
Frank Lampard wants the world to know that the debacle surrounding his contract status with Manchester City and New York City FC is all a big misunderstanding.
As hard as it may be to believe, Lampard's mind was fully set on moving to New York after being wooed by Man City and NYC FC CEO Ferran Soriano, NYC FC sporting director Claudio Reyna, and head coach Jason Kreis last July. Only a chance meeting with Man City coach Manuel Pellegrini while the club was in New York for a friendly match convinced Lampard that joining Man City to remain fit would be the better option.
"It was 100 per cent New York," Lampard told the Times UK in a wide-ranging interview. "I had sat down with Ferran and it was all about New York. There was no mention of Man City. If they had wanted to speak to me on behalf of Man City, with New York in the pipeline beyond that, they could have done that, because I was a free agent, but that was never the question at all.
"This is one of the reasons why I wanted to do this interview, because I've heard and seen people say it must have been all contrived that I would join Man City," Lampard added. "It wasn't. It was 100 per cent New York. But while all this discussion was going on about the next five or six months, Man City were in town for a preseason game. I spoke with Manuel Pellegrini and he said he wanted me to come for the first half of the season — simple as that."
Since joining Man City last August, Lampard has exceeded expectations, which led to Man City extending Lampard's deal through the rest of the season on New Year's Eve. Since then, controversy has reigned supreme, as it's now clear that Lampard never signed a contract with MLS or NYC FC, and had only signed a pre-contract agreement that was set to begin on Jan. 1.
According to the English Premier League, Lampard does have a two-year contract with Man City, one that once included a break clause on Dec. 31, that would have allowed him to trigger his NYC FC contract a day later. Lampard is now expected to arrive in MLS in July.
Read more of the interview here.
————-
What do you think of these comments? Do you believe Lampard's view of what happened? Do you feel any better about the fiasco that's dominated headlines over the past two weeks?
Share your thoughts below.