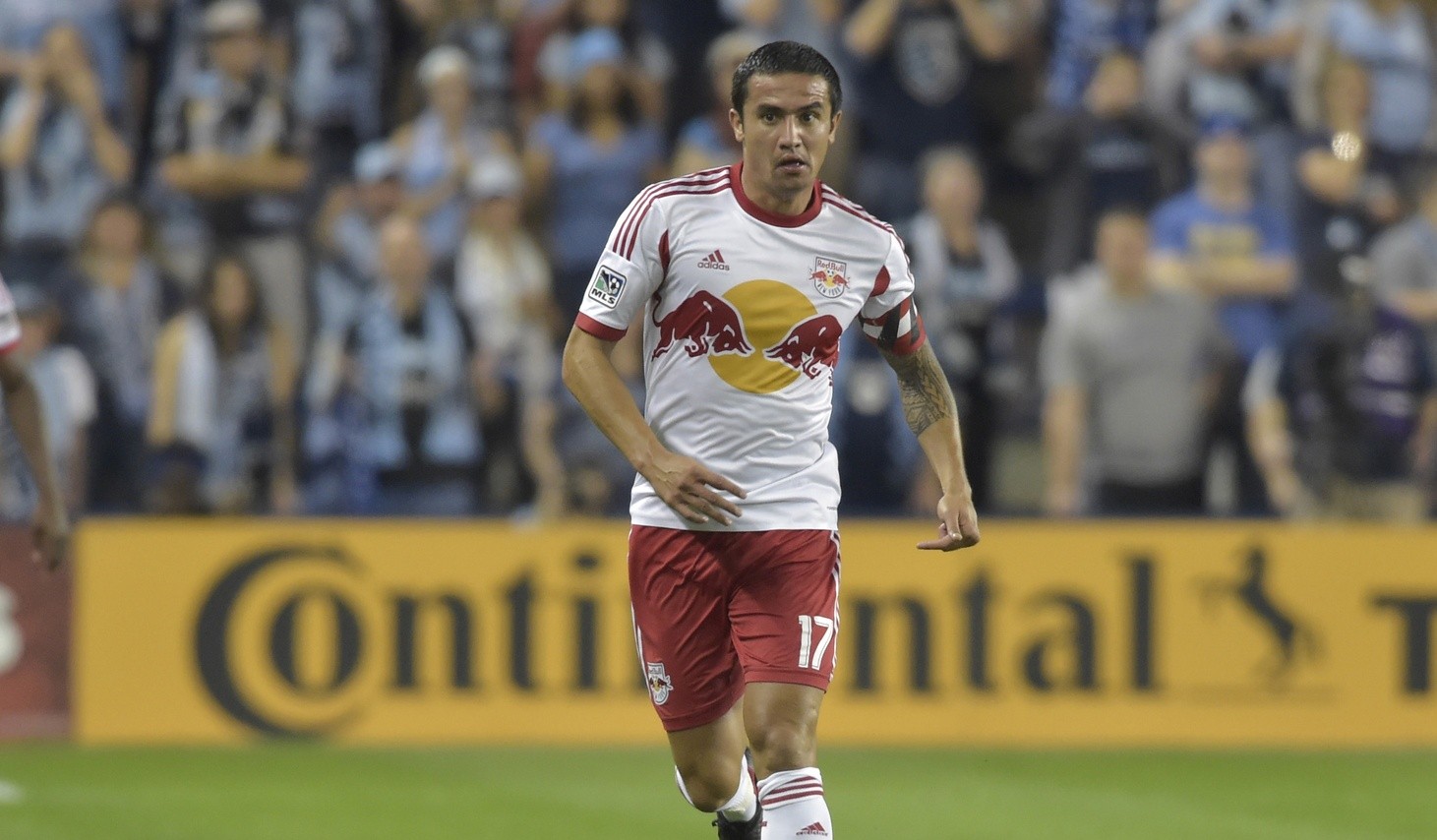 Photo by Denny Medley/USA Today Sports
By RYAN TOLMICH
Tim Cahill is currently representing Australia on the international stage, but the New York Red Bulls Designated Player is reportedly close to making a change on the club level.
The National reported on Monday that the Australian forward has agreed to a tentative deal with United Arab Emirates club Al Wahda, with the two sides hoping to reach a formal agreement at the conclusion of the Asia Cup.
Cahill made 29 total appearances in 2014 for the Red Bulls, although the 35-year-old was used mostly as a substitute toward the end of the season. Currently in Australia for the Asia Cup, Cahill, who has scored three goals in the competition, is set to lead the Socceroos against UAE on Monday in the competition's second semifinal matchup.
Here are some more of of Monday's MLS news and notes:
D.C. UNITED OWNER THOHIR LOOKING TO LOAN PLAYERS FROM INTER MILAN
Erik Thohir maintains an ownership stake in both D.C. United and Inter Milan, and the Indonesian businessman is hoping to use that power to bring some of the Italian club's best prospects stateside.
As majority owner of both clubs, Thohir, expecting a raise in the MLS salary cap, is hoping to bolster D.C. United's squad with a few Inter imports in a move that the owner believes will benefit both clubs.
"There are possibilities to send Inter players to help D.C., maybe some hot prospect youngsters to help them get minutes," Thohir said, according to Goal. "It will be a great opportunity to play in a big league like MLS.
"I think this year the salary cap will be raised, while Designated Players will remain the same," Thohir said. "MLS is getting better day by day, with many major European clubs investing, like Manchester City with New York."
While Thohir hopes to add some Serie A talent to D.C. United's roster, the owner also believes in his current group and is excited to see the squad's development in 2015.
"It's not like in Europe because we have a salary cap," Thohir said. "We have a solid team, and three of our players received call-ups from the U.S. national team: Bill Hamid, Steve Birnbaum and Perry Kitchen. We also have great players like Fabian Espindola, Sean Franklin, Bobby Boswell. Now it's all about how to improve them, because they are solid."
TORONTO FC ADDS DEFENDER PERQUIS
Toronto FC has taken major steps to improve the team's attack through the signings of Jozy Altidore and Sebastian Giovinco. With the prospect of scoring goals apparently sorted out, TFC took the opportunity to bolster the backline with a defensive signing.
The club announced the addition of the Polish international defender Damien Perquison on Monday. The 30-year-old center back joins TFC after two-and-a-half seasons with Spain's Real Betis, for whom he made 47 appearances and scored two goals.
"Damien's signing addresses an area we wanted to improve upon this offseason. His experience and leadership both at club and international level will be a welcomed addition to our team," said TFC general manager Tim Bezbatchenko. "Damien has a great defensive sense and will provide an upside on the ball with his strong distribution from the back. We are very excited to bring him to Toronto FC."
Perquis, who represented France on the youth level, has earned 13 caps for the Polish national team, including three at Euro 2012. Prior to joining Real Betis in 2012, Perquis featured for French clubs AS Saint-Etienne and Sochaux.
RED BULLS' MIAZGA TO TRAIN WITH RB LEIPZIG IN QATAR
Matt Miazga's travels will see the New York Red Bulls center back make a quick pit stop in Qatar
Miazga is reportedly headed to Qatar for a training stint with the Red Bulls' sister club, RB Leipzig. Miazaga will reportedly train with the 2. Bundesliga club for a few days and has not been loaned in or bought by the German club.
Miazga is coming off a successful U-20 World Cup qualifying campaign in Jamaica with the U.S. Under-20 Men's National Team, anchoring the U.S. defense on the way to a playoff victory over El Salvador. On the club level, Miazga made seven appearances for the Red Bulls last season, his first full-time campaign in MLS.
—-
What do you think of the potential move for Cahill? What players would you like to see D.C. United add from Inter? How will Perquis fit in with TFC?
Share your thoughts below.