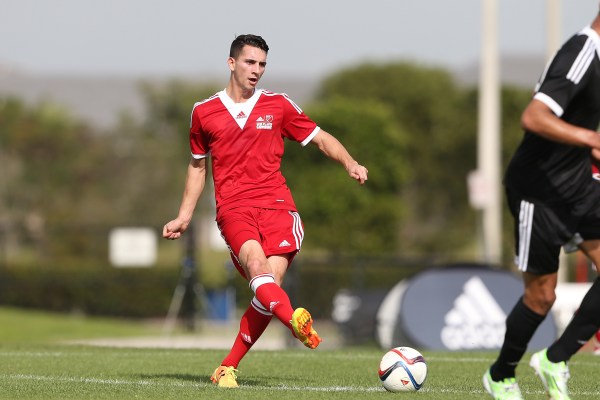 Photo courtesy of Andy Mead/MLS
By FRANCO PANIZO
If things had played out differently, Dan Metzger would already be a member of the New York Red Bulls. Metzger, however, chose a different path.
Metzger will be one of the players up for selection during Thursday afternoon's MLS Draft, and is projected to be a first-round selection. His solid body of work during his four years at Maryland is a big reason for that, but so too is his decision to shed his Homegrown Player tag from the Red Bulls.
Growing up in central New Jersey, Metzger was part of the Red Bulls' academy during his formative years. The 21-year-old defensive midfielder represented the club as a youngster, watched the full team, looked up to players like Dax McCarty, but ultimately decided that it was in his best interest not to sign with an organization that carries a negative stigma in regards to how it treats homegrowns.
From the initial New York homegrown Giorgi Chirgadze to Juan Agudelo to Sacir Hot and even currently Connor Lade, the Red Bulls have had a tough time transitioning youngsters from their youth teams to their first team. It's been an ongoing issue for the club that's drawn a lot of attention throughout MLS, and something that Metzger was well aware of when he chose to work on removing his homegrown label.
"With the Red Bulls, for me, they bring in all these top players, which is fine and everything," Metzger recently told SBI. "They want to win and everything, but it makes you realize how you're going to fit in there when you're playing with players like Thierry Henry, obviously, and Tim Cahill.
"It's obviously tough, but at certain clubs you have Homegrown Players that homegrown is important to them. I think Colorado does really well with that, New England does really well with that. I think it varies from club to club, I think it just depends on where you'e at."
Metzger knows that the Red Bulls are in a tough market, where there are high expectations that lead to what some call an over-reliance on older players. He gets it and knows that the club is working hard now to change that perception and put more of an emphasis on developing younger talent.
Even so, Metzger still feels like he made the right decision. The feedback he got from one of the club's homegrowns was enough to convince him of that.
"I was very close with Juan Agudelo," said Metzger. "We grew up together playing and I got his perspective on the whole homegrown thing when he was (on the) Red Bulls. Basically, he just felt like he wasn't getting looked at as highly as the other players that were coming in, not being homegrown.
"That gave me a lot of perspective, which actually led me to take a further look into trying to get out of my homegrown rights. But the Red Bulls are changing. I think they are trying to do the right thing now. (Recent homegrown signing) Sean Davis, I think they're going to be helping him out a lot and improve the whole stigma on Homegrown Players."
Instead of signing with the Red Bulls, the 5-foot-10 Metzger chose to enter the recently-concluded MLS Combine. There, he believed he would have a chance to impress all the MLS clubs in an up-close-and-personal setting.
Unfortunately for Metzger, his combine was cut short by an injury. At the end of a solid first-day performance in which he moved the ball tidily and quickly and was team captain, the former Terrapin took a knock that ruled him out for the remainder of the event.
He didn't have another chance to make his case in South Florida, but his Day 1 showing combined with his four seasons at Maryland – where he scored eight goals and had four assists in 88 games – were more than enough to make a lasting impression on several of the coaches that will be drafting in Philadelphia on Thursday.
"I think he's a good passer," new New York Red Bulls head coach Jesse Marsch told SBI. "He's smart about also how he moves around defensively to cut off passing lanes and angles. He makes it look easy because of his intelligence on the field. We don't necessarily have a need in that position, but I think he's done well for himself and he's someone that we're considering."
Added Orlando City head coach Adrian Heath to SBI: "I thought he did well. It's obviously been disappointing for him because he obviously got a knock, but he played well in the first day, showed one or two qualities that we'd obviously seen through the year."
In terms of skills and playing style, Metzger compares his game to that of Red Bulls defensive midfielder Dax McCarty. Not only do the two of them play the same position, but Metzger believes they both play simple, are clean on the ball, can shoot from distance and are strong passers.
Metzger also thinks that his versatility and athleticism are overlooked attributes, but are part of the reason why he received a call-up to a U.S. Under-23 Men's National Team camp last August.
"Not that I think I'm criticized for not being athletic, but I think I'm underrated athletically and I feel like I'm a very versatile player," said Metzger. "When I was with the Red Bulls reserves back before college, I was playing sort of on the outside and I did really well there, so I'm a pretty very versatile player.
"I feel like I can adjust to all positions, but my position is definitely defensive mid. I can read the game pretty well, good in the air, I judge the ball really well in the air, and I have a good shot from distance. I'd say, overall, defensive mid is my best position, but I feel like I can handle anywhere throughout the midfield."
Soon, Metzger will have the opportunity to showcase all those skills in MLS. His name will likely be called before the end of the first round on Thursday, but probably by one of the 19 teams not named the New York Red Bulls.
"Nothing against the Red Bulls – I love their coaches there, they helped me a lot – but in the long run I just thought it would benefit me more if I had the opportunity to go to the combine, get more looks from other places," said Metzger on removing his homegrown tag. "It opened up some doors for me and it'll be interesting to see where I get picked up, and hopefully I'll have an impact on a team right away as opposed if I go to the Red Bulls.
"They have a lot of players in my positions, especially after signing Sean Davis, who plays a similar position to me. I just felt like it would give me more opportunities to have an impact on a team right away."