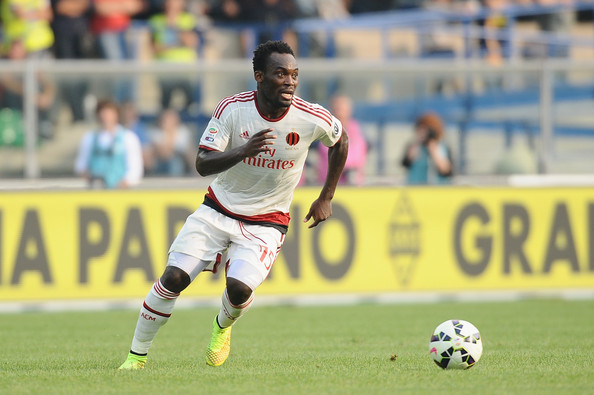 By RYAN TOLMICH
AC Milan's Michael Essien is set to see his contract expire in June, leading to reports that the midfielder may be bound for a move stateside.
The Ghanaian international has been linked with a move to FC Dallas, as Milan are reportedly looking to sell Essien before his contract expires. FC Dallas have reportedly made an offer for the 32-year-old midfielder, who has made nine appearances for Milan this season.
Essien is believed to be interested in a move to MLS and has reportedly rejected recent advances from the Premier League's Burnley and Leicester City.
Prior to joining Milan, Essien played seven seasons for Chelsea, as well as a one-year loan spell with Real Madrid.
Here are some more of Wednesday's MLS news and notes:
TFC TRADES BEKKER TO FC DALLAS
The shakeup of Toronto FC's roster continues with the departure of one of the team's local products.
TFC has dealt Canadian national team midfielder Kyle Bekker to FC Dallas in exchange for allocation money. Bekker, 24, spent two seasons with TFC, making 13 appearances for Canada while playing just 35 times in all competitions for TFC.
Bekker joins an FC Dallas squad with a growing Canadian presence on it. He joins fellow Canadian-born midfielder Tesho Akindele, and recently-drafted Canadian Jaineil Hoillett.
TFC ANNOUNCE DETAILS OF USL PRO TEAM
Toronto FC has a name, home and logo for the club's USL Pro team that is set to begin play in 2015.
TFC II is set to become the eighth MLS-run side in the USL Pro and will play 12 home games at the Ontario Soccer Centre in Vaughan, Ontario, Canada while training at the club's Kia Training Grounds.
"I would like to thank MLSE for the continued support of Toronto FC," said general manager Tim Bezbatchenko. "I believe that MLS clubs with their own USL PRO teams' in-market will be able to close the gap between academy and our first team on a number of levels. This investment signifies our commitment to winning and preparing our young players, both Canadian and our draft picks to become professionals."
The team's new logo is reminiscent of that used by the MLS club,but will be differentiated by the addition of II in the background.
DI VAIO HIRED AS MANAGER OF BOLOGNA FC
Just months after the conclusion of his playing career, former Montreal Impact forward Marco Di Vaio is set to embark on his career as a manager.
Bologna FC announced Wednesday that the club had hired Di Vaio as the team's manager. Di Vaio featured for Bologna, who currently sit second in Serie B, from 2008-12.
"I am pleased and proud of the hiring of Marco," said Bologna chairman and Impact owner Joey Saputo. "I knew him as a player and enjoyed him for more than two years, both the human and professional qualities. He made a great career as a player and I am sure will become a great leader and contribute to the development of our club."
Di Vaio retired as the Impact's leading goalscorer at the conclusion of the team's 2014 season.
LOUISVILLE CITY SIGN FORMER D.C. UNITED HOMEGROWN SHANOSKY
Conor Shanosky started his career as a 19-year-old Homegrown product of D.C. United, but the 23-year-old midfielder is set to start anew in 2015.
The USL Pro's Louisville City announced Wednesday that the team has signed Shanosky, who scored for D.C. United in the CONCACAF Champions League this past October. In total, Shanosky made five appearances for the MLS club while also going out on loan to the Harrisburg City Islanders, Richmond Kickers and Fort Lauderdale Strikers.
"Conor is a massive signing for us," said Louisville City head coach James O'Connor. "To have had MLS, U.S. National Team and CONCACAF Champions League experience, Conor is someone that we are extremely excited to join us, and his character and leadership will definitely make a difference this season."