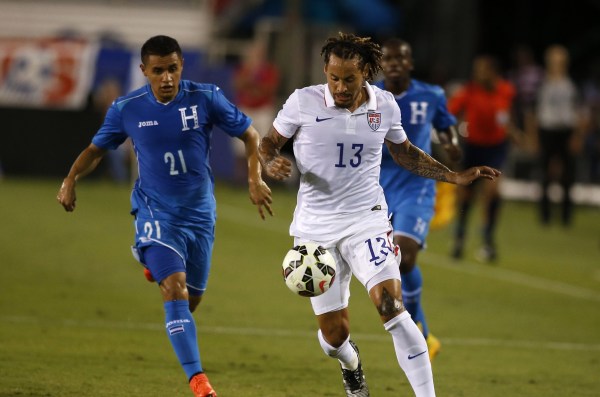 Photo by Robert Mayer
/USA Today Sports
By RYAN TOLMICH
For U.S. Men's National Team head coach Jurgen Klinsmann, the January camp represents an opportunity to give some of the pool's younger players experience competing at the highest level.
By introducing a slew of younger talent, Klinsmann hopes that the team's veteran core can impart some wisdom on an impressionable, inexperienced group intent on making its mark ahead of the 2016 Olympics. USMNT veterans insist that the new wave of players haven't been the only ones to profit from the approach, as even the team's most experienced regulars have learned from their younger counterparts.
"I enjoy it," said forward Chris Wondolowski. "I think there's a great balance between veterans and new guys where the young guys are able to pick our brains and be able to get some information, but also where we can learn from them. They're all great players and I love their exuberance."
The introduction of new faces — there are 14 uncapped players on the roster — has brought in brand new competitors at virtually every position. Even the team's most experienced stars are now competing with players eager to prove their worth, not just enjoy the ride.
"This time around, Jurgen is going to be open to a lot of new faces, but the competition will never change," said goalkeeper Nick Rimando. "There's always somebody knocking at your door to take your position or to be on this team.
"For me, it's always about competition and it has to be to get better. Anybody that's in camp right now is going to push the next guy in line and that's what's going to make us better."
Rimando said he understands that while it is important to maintain his place with the team, the most important part of this camp is to better those around him. Heading into both an Olympic and World Cup qualifying cycle, the immediate future of the team begins to take shape with the January camp and the lessons learned both on and off the field.
"We have two great matches at the end of it to try and get these young guys integrated with the men's team," Rimando said, referring to matches away to Chile and at home against Panama. "Being there to mentor them, educate them with any advice we have and to lead them in the right direction to show them what it's like to play at this level.
"Obviously, we want them to do well and, if they do well, ultimately we'll do well in the future with the men's national team. It's just getting together with the guys not only on the field, but off the field and showing them what it's like to be a men's national team player."
The upcoming slate of games will give every player, both veterans and newcomers, a chance to show that they are an integral part of both the present and future of the national team. Jermaine Jones, one of the USMNT's main leaders, understands that regardless of the team's past successes, each and every player on the roster will need to establish or reestablish himself in the coming weeks.
"I think we already showed, what I think, is that we played a good World Cup, but now it's over," Jones said. "We need to step up, everybody, and everybody has to show now a new face.
"A lot of young boys will come now and push the experienced players. We have to show, too. Obviously, it's nice to play with the young boys, sometimes it's tough, but it's work. A lot of good games are coming and everybody is trying to be on board for those games."