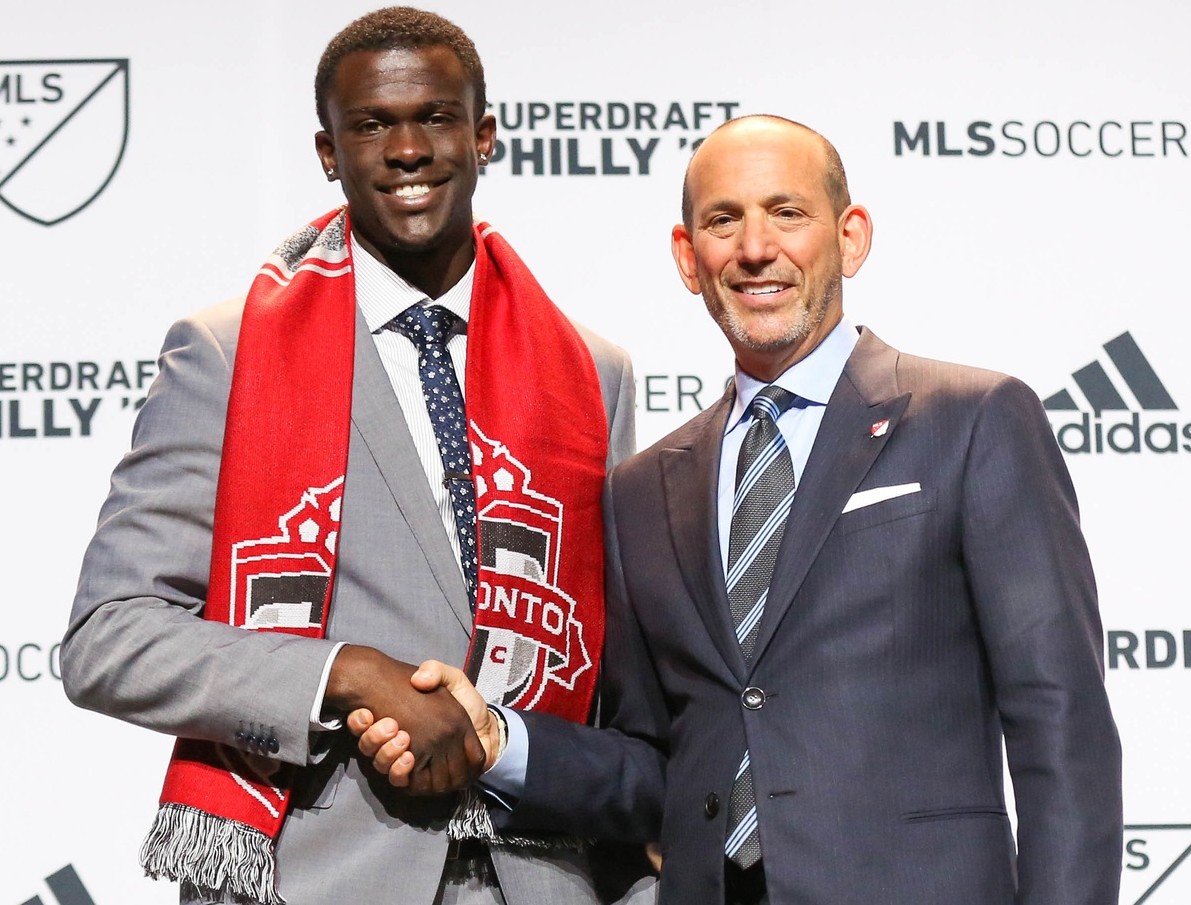 Photo by Bill Streicher/USA Today Sports
By RYAN TOLMICH
PHILADELPHIA — Toronto FC's approach to Thursday's draft may not have been what was expected but, in the end, the team got exactly what it wanted.
With its first three selections, TFC added goalkeeper Alex Bono and defenders Clement Simonin and Skylar Thomas. The addition of Bono made sense, as head coach Greg Vanney reiterated the widely-held belief that the Syracuse goalkeeper was the "best, most well-rounded goalkeeper in the draft." Bono's Syracuse teammate Thomas was also a logical choice, given the team's history with the Toronto native.
"He was a target for us," Vanney said regarding Thomas. "We watched him over the season with Syracuse and we obviously knew of him growing up in the Toronto area. Not only that, but we saw him in two consecutive combines and over the six games we watched him, for me, he was by far the most consistent center back in all six of those games.
"I think he has a maturity about him. He understands what his game is and very much plays within himself, which I think is a massive quality for a center back. We saw some leadership on the field from him, too, at times, so we're very pleased."
The addition of Simonin, however, puzzled many. Not heralded as one of the top prospects in the draft, Simonin was Thursday's first big surprise, but Vanney knew that the center back, who missed most of his senior year, was drawing interest from other teams.
"His senior year, he started three games and then he had a hernia surgery, so nobody saw him over the course of his senior year," Vanney said. "We saw him a bit, so we knew about him. We spoke to a lot of people that had seen him before that and rated him high. He's a left footed center back who is outstanding on the ball.
"We didn't necessarily think Clement would be the second in that, but when you get into draft dynamics, the one thing we didn't know is that Seattle knew about him. He played on their U-23 team. To be fair, they were all around us and trying to trade with other teams around us, so we knew he was a guy we wanted to get and decided not to take the risk of losing him."
Overall, Vanney left Thursday more than pleased with TFC's haul, as the club got exactly what it wanted out of draft day.
"We said if we get these three guys, these three picks, we did exactly what we needed to do today and we're out," Vanney said. "We looked at and listened to the possibility of trading down and doing different things, but nothing was more important than getting the three guys we targeted coming into today."
Here are some more of Thursday's notes from the MLS draft:
BESLER LOOKING FORWARD TO LEARNING FROM TIMBERS VETS
Midfielder Nick Besler has spent the past few seasons fighting comparisons with older brother Matt, but now the Notre Dame product is looking toward forging a professional career of his own with the Portland Timbers.
Besler, selected fifth overall by the Timbers, is especially excited for the opportunity to improve his game under the tutelage of Timbers midfielders Will Johnson and Diego Chara, who Besler believes can teach him what it takes to make it in MLS.
"One of the ways to be a really good professional is learning from some of the best," Besler said. "Will Johnson and Chara, they're both great professionals. So I'm looking forward to the opportunity.
"I'm really excited to join Portland. I think they're a great organization that's headed in the right direction and I think they've got the best fans in MLS. I'm really excited to get up there and start getting to work with them."
Despite embarking on his own professional career, Besler knows comparisons with his older brother will persist, but now the midfielder is relishing the opportunity to give the World Cup veteran a test when the two face off on the field.
"I get them so much that I've gotten used to responding to them," Besler said of the comparisons. "It's going to be different now because I'll be playing against him. I'm excited to go up against him and I won't be easy on him."
SHELTON SURPRISED, EXCITED BY CHANCE TO PLAY IN NEW YORK
Khiry Shelton has never been New York, and he wasn't planning on going there anytime soon. Projected to be a top pick, Shelton knew there were plenty of potential landing spaces, but the Oregon State forward was far from prepared when New York City FC made him the second overall pick in Thursday's draft.
"I had no idea. This is crazy," Shelton said. "I'm just excited to get started. I was super happy. Anywhere really, but New York especially, because I have not been there and I've heard from the great staff they have, so it's been great."
Shelton will now be presented with the opportunity to play with internationally experienced players like David Villa, Frank Lampard and Mix Diskerud, and the forward believes that his attacking motor will match up well with his new teammates' playmaking abilities.
"It's going to be amazing," Shelton said. "These are top-end guys. I'm very excited for the opportunity to get started.
"I'm a very hard-working attacking player. I like to score goals, so that's what (NYCFC is) getting. I know they're excited, and I'm excited as well."
SPORTING KC'S HALLISEY, ABDUL-SALAAM LOOKING FORWARD TO GETTING TO KNOW ONE ANOTHER, SUPPORTERS
Within 10 minutes of one another, winger Connor Hallisey and fullback Saad Abdul-Salaam learned that they were to share a draft day landing spot.
With the 10th and 12th picks, Sporting KC grabbed Hallisey and Abdul-Salaam, respectively, leading to a friendly embrace and a few laughs between the pair of new teammates.
"I just recently met him at the combine," Abdul-Salaam said of his new teammate. "He's a really good guy, a really good friend of mine now just because of the experience we just shared. We have the same agency and I'm looking forward to playing with him."
Abdul-Salaam, who wasn't widely projected as a first-round pick, is excited to join a Sporting KC squad that showed faith in his abilities.
"They've just been great," Abdul-Salaam said. "They said 'We like you a lot as a player, as a person.' It made me feel like I was already at home before I got there."
Meanwhile, Hallisey also made strides toward making Sporting KC his home, as the Cal winger endeared himself to his new club's fans by taking a selfie with MLS Commissioner Don Garber.
While Hallisey classified his selfie as "just the thing to do right now," the winger can't wait to get to get to know both Kansas City and the club's fans.
"Definitely," Hallisey said when asked if he enjoys becoming close with supporters. "I like to think so. I'm very excited to get involved with the fans any way I can.
"I've never been to Kansas City. I'm excited to get there. (I'm looking forward to) just getting to know the city. I don't know much, but I just want to get to know the fans, the team, the club, everybody. I'm really excited."
SJOBERG EXCITED FOR 'NEXT CHAPTER' AFTER JOINING RAPIDS
Despite hailing for Stockholm, Sweden, Axel Sjoberg has always dreamed of what happened Thursday.
The hulking, 6-foot-7 center back was chosen 14th overall by the Colorado Rapids, putting the former Marquette star on the path he has wanted since childhood.
"It's a relief in a way because it's a childhood dream coming true," Sjoberg said. "At the same time, it's so exciting because I'm not done with my soccer career. It's just the next chapter, and this is exactly what I wanted to do, so after four years of college and having dreamt of this moment, it's a great place to be and I'm really excited for the future."
Leading up to the draft, critics pointed to Sjoberg's lack of lateral mobility as his biggest weakness, but the 23-year-old believes he has the mental strength to accommodate his lack of pure speed.
"As a big guy, I might not be the fastest guy in the world," Sjoberg said, "but I've really learned, since I came to the U.S. and university, how to use my body the right way and move my feet to keep attackers facing the wrong side. They really can't turn me anymore. I use my body to my advantage now, which I learned much better in college.
"Whether you're small and quick, or big and strong or fast, I have solutions for everything. Hopefully, I can show that in MLS this year. First, I'm just going to training camp and trying to prove it there. I feel like I'm in good shape right now, so I'm excited to start training camp."
—
What did you think of Thursday's draft? Like TFC's rationale behind taking Simonin? Do you see Besler getting first-team minutes with Portland this season?
Share your thoughts below.