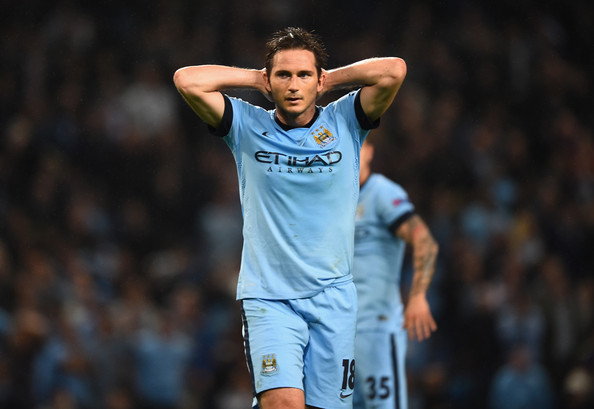 By RYAN TOLMICH
This much is known: Frank Lampard is set to continue as a Manchester City player. What remains to be seen is just how long that will continue to be the case.
Man City took the opportunity to extend Lampard's time with the team by extending the midfielder's contract Wednesday, delaying the 36-year-old's move to New York City FC until at least the conclusion of the Premier League season.
Even worse for NYC FC and their fans, manager Manuel Pellegrini left the door open for an extended stay with the club, despite declaring his sympathy to the fans of NYC FC.
"Maybe all the New York fans, and I understand perfectly, want to see Frank playing because for the fans in New York to see Frank play is an amazing thing," Pellegrini told reporters following Man City's 3-2 victory over Sunderland, in which Lampard scored the game-winning goal. "I hope that he will be there next year but I think that in this moment the best decision for him, for the club, for New York is to stay here with us."
The Man City manager refused to elaborate further on the midfielder's future while stating that no decision will be made until the end of the season.
"You are talking May or June? You cannot have all different questions about Frank Lampard," Pellegrini said. "The questions about Frank Lampard are I think finished today. He will stay now with us until the end of the season.
"In May maybe you can start thinking about what will happen in the future. He will stay with us until May."
—-
What do you make of Pellegrini's statements? When do you expect to see Lampard make his NYCFC debut?
Share your thoughts below.