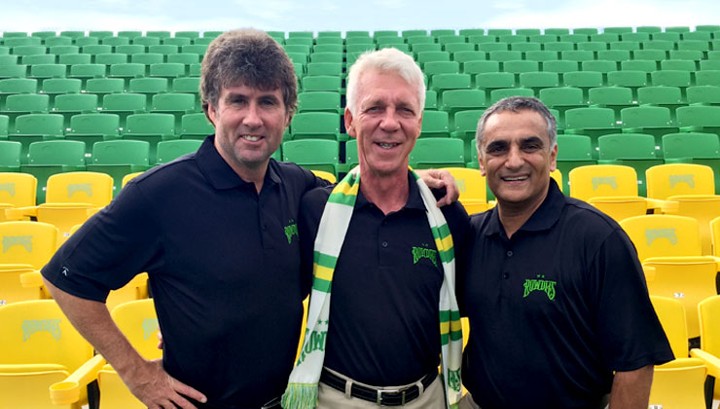 By RYAN TOLMICH
Recently appointed head coach Thomas Rongen has spent the offseason constructing an attack-minded roster, and he isn't done quite yet.
Highlighted by eight new additions in roughly a month, the Rowdies are set to look very different than the side that finished eighth in the Combined Standings last season. Despite the influx of talent, Rongen insists that the Rowdies are still on the prowl for more upgrades.
"We're now going to sit back a little bit and look at how the CBA and MLS shake out," Rongen told SBI, "because we truly believe that, with the MLS Combine and MLS starting a month before us, that there will be some guys that, because of financial reasons, roster size, whatever, that might get lost in the shuffle.
"I feel right now that we still have money to bring in three or four good players and we still have some money to bring in one or two exceptional players. I think that we are in a good position now and we will be even better going forward to start the season in early April. I think this team will be shaped to a point where we can do something special going forward."
Those upcoming additions will go a long way toward installing the Dutch head coach's philosophy, which is, naturally, based around a free-flowing, attacking style. Rongen, who previously coached in MLS with D.C. United, the New England Revolution and the Tampa Bay Mutiny, is looking to bring that same style to the NASL with the Rowdies.
"What I want to see is an aggressive, attacking brand of football," Rongen said. "My team's have always outscored the opponent. We're always a high scoring team. I want to play a good brand of football. Obviously, we need to win, which I understand, but we need players that fit that picture.
"We need to have pace as individuals and as a team, and I think that's something that we've addressed. We need some real leadership down the spine… We have some good players, some experienced players in our spine and now we'll surround them with some youth and I think we are putting a team together that will represent the style and philosophy I would like to see.
"It's always nice when you can handpick players and we're starting a little from scratch, which is always a little bit tough, because it's tough to get players on the same page, but on the other hand, I feel pretty confident and pretty good about where we're at right now."
Here are some more news and notes from around NASL:
INDY ELEVEN CONTINUE PURSUIT OF STADIUM
Indy Eleven are heading into the club's sophomore campaign and, if the club gets its way, there won't be many more without a more permanent home.
The club has continued its pursuit of a stadium deal in an effort to persuade local lawmakers to help construct an $87 million, 18,500-seat downtown stadium. Indy Eleven previously made such a proposal last year, but were rebuffed due to the fact that the club had yet to take the field for an official game.
Since that point, Indy Eleven sold out all 14 of the team's contests at IUPUI Carroll Stadium, averaging 10,450 fans per game, sparking discussions of a bill that is set to be filed within a week.
"From Indy Eleven's perspective, we went out and did what was asked — to prove that there is a need and a demand for soccer," said team president Peter Wilt said. "The people of Indiana certainly proved there's interest in professional soccer in the Hoosier state.
"A year ago, (skeptics) were saying, 'Let's see how they do after they play a game,' " Wilt said. "Then they said, 'How will it go after the first game?' Then 'How will it go after the spring season?'
"I think the proof is there. Soccer's foundation is broad. It's not a fad. The roots of the sport are deep now. It's certainly ingrained in the traditional youth soccer community. But beyond that, it's now ingrained with young adults, new Americans and sports fans in general. It's no longer a niche sport. It's in the mainstream."
ARMADA SIGN FORMER SWISS LEAGUE GOLDEN BOOT WINNER KEITA
Roughly three months ahead of the 2015 season, the Jacksonville Armada will kickoff their inaugural campaign with a proven goalscorer.
The Armada announced Wednesday that the club has signed striker Alhassane Keita. The 31-year-old, who has previously featured for RCD Mallorca and Real Valladolid in Spain, was the Swiss Super League's Golden Boot winner in 2005-06 after scoring 20 goals for FC Zurich.
"We are very pleased to welcome a pedigree like Keita's," said Dario Sala, Armada FC General Manager. "He has been successful against top competition overseas, and I look forward to seeing what dynamic he can bring to our club."
Keita becomes the Armada's eighth signing ahead of the club's first season, joining goalkeeper Miguel Gallardo, forward Jemal Johnson, midfielders Jaime Castrillon and Lucas Rodriguez and defenders Fabricio Ortiz, Matt Bahner and Shawn Nicklaw.
"I am really looking forward to starting something special in Jacksonville, and the Armada FC really excited me after I visited the club in November," Keita said. "(Head coach) Jose Luis Villarreal's system is ideal for my playing style, and he and Dario Sala really welcomed me, so I cannot wait to join my teammates for preseason."
—
What do you expect of the Rowdies' new additions this season? How do you think the Indy Eleven stadium pursuit will play out? What do you think of the Armada's current roster?
Share your thoughts below.