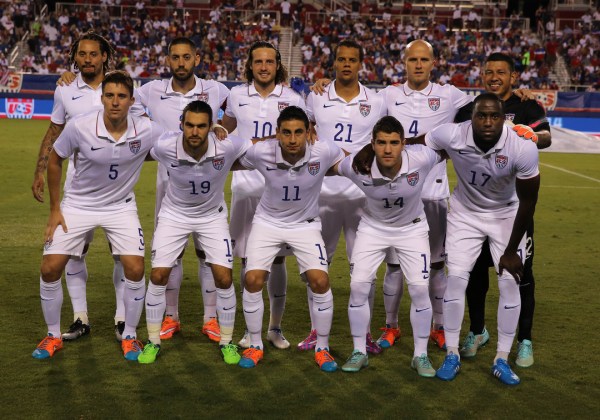 Photo by Robert Mayer/USA Today Sports
By FRANCO PANIZO
Jurgen Klinsmann has a number of his top-choice players available, but whether he starts them all for the first match of the new year is something he is likely considering plenty.
The U.S. Men's National Team is set to open a busy 2015 schedule on Wednesday, taking on Chile in a friendly that will see the Americans make a rare appearance in South America. Klinsmann trimmed his January camp roster to 23 players over the weekend and the head coach has several of his MLS-based marquee regulars available, but his stated goal of identifying younger and unproven talent this year could be a factor when he tries to settle on a lineup.
Klinsmann could be tempted to give test runs to up-and-comers like Wil Trapp and Gyasi Zardes to see if they sink or swim, but he might also want to rely on more of his experienced mainstays in a tough environment like Chile given that the Gold Cup is fast approaching.
Here is who SBI thinks will take the field against the Chileans on Wednesday:
Some thoughts:
With the U.S. having reportedly experimented with a three-man back line in the lead-up to this game, it would not be strange to see Klinsmann test out the new tactical wrinkle to gauge how effective it can be. If that's the case, expect three center backs to see the field. Matt Besler is a virtual lock and the Jermaine-Jones-at-centerback experiment should continue, leaving one spot available. That could go to Shane O'Neill, Steve Birnbaum or Matt Hedges, but we think O'Neill is the youngster that gets the nod given that he has had prior exposure to Klinsmann's setup.
With one less defender on the field, the midfield should have an added body. The center of the park is an area in which the U.S. has a wealth of options, so Michael Bradley and Mix Diskerud continuing the partnership they began in the fall seems plausible. Bradley would be deployed in front of Diskerud in this case, as Klinsmann has said and shown he prefers to see the Toronto FC star further up the field. Klinsmann then may be tempted to throw a youngster into the fray, and the blossoming Trapp seems like a perfect candidate after his strong 2014 season with the Columbus Crew.
The absence of fullbacks will, however, makes it likely that Klinsmann relies on speedy outside midfielders capable of transitioning back on defense in a sort of wingback role. The athletic and returning Brek Shea would be a natural fit on the left, and the late call-up of DeAndre Yedlin — who played on the right side during the World Cup — would indicate that he is also in store for a start.
It seems all but a guarantee that captain Clint Dempsey and Jozy Altidore man their usual spots up top, with Dempsey dropping a little deeper to create and Altidore staying high and awaiting service from the flanks.
—–
Do you think this will be the lineup we see on Wednesday? Would you rather start someone else or use a different formation? Think Klinsmann should go with mostly mainstays or should he test out some of the more unproven players?
Share your thoughts below.