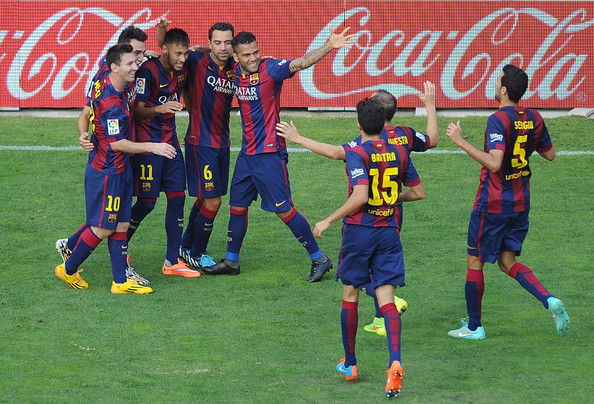 By ADAM TROXTELL
Last year's Spanish title decider will once again prove crucial when Barcelona welcomes Atletico Madrid.
The Catalans' manager Luis Enrique promised reporters that he had the support of the players after a tumultuous week in which his job was reportedly called into question. It is in this environment that Atletico, who have won three straight, will attempt to once again gain vital points in the Primera Division title race.
With Real Madrid extending their lead to four points, a win for either Atletico or Barcelona – both on 38 points – could prove decisive should the title race come down to the wire. Barcelona are looking to bounce back after a shocking loss to Real Sociedad last weekend.
In England, third placed Manchester United face a big test at home to fourth-placed Southampton. The Red Devils will look to maintain their streak of 11 games without a loss in all competitions.
AS Roma and Lazio lock horns in the Derby della Capitale to highlight the action in Italy. Later, Napoli hosts league leaders Juventus to complete a weekend clash of the top four teams in Serie A.
Finally, Lyon could end up on top of Ligue 1 should they get all three points in a home game against Toulouse. Both Marseille and PSG recorded losses in this round of the French top flight, leaving the door open for another title challenger.
If you will be watching today's action, feel free to share your thoughts, opinions and some play-by-play in the comments section below.
Enjoy the day's action (today's schedule is after the jump):
SUNDAY SOCCER ON TV
6:30 a.m. – beIN Sports USA – Inter Milan vs. Genoa
8:30 a.m. – NBCSN – Arsenal vs. Stoke
9 a.m. – beIN Sports USA – Roma vs. Lazio
11 a.m. – NBCSN – Manchester United vs. Southampton
11 a.m. – beIN Sports USA – Nantes vs. Metz
11 a.m. – beIN Sports en Espanol – Athletic Bilbao vs. Elche
1 p.m. – beIN Sports USA – Granada vs. Real Sociedad
2:45 p.m. – beIN Sports USA – Napoli vs. Juventus
3 p.m. – beIN Sports USA – Barcelona vs. Atletico Madrid