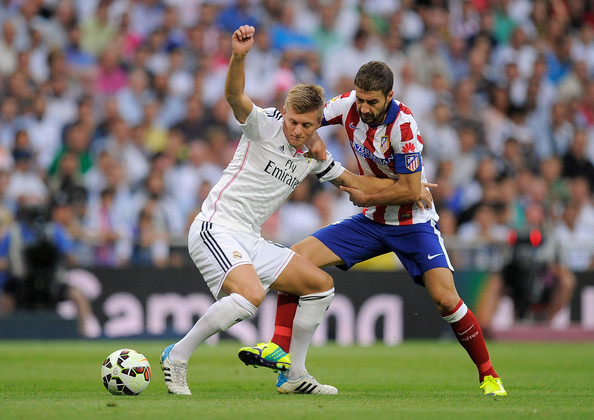 By DAN KARELL
One of the world's most exciting derby's continues this afternoon when Real Madrid visit Atletico Madrid in the Copa Del Rey Round of 16.
Atletico have had Real's number so far this year, winning the Spanish Supercup over their city rivals and defeating Los Blancos in La Liga last September. Since that defeat, Real Madrid went on an impressive 22-game winning streak, only broken last Sunday against Valencia.
Fernando Torres can make his first appearance since officially returning home to Madrid, and was included in Atletico's squad list.
Elsewhere, three other Copa Del Rey games are also going on this afternoon. David Moyes and Real Sociedad take on Villarreal, Valencia face Espanyol, and Almeria face Getafe. In France, Lille host relegation-threatened Evian TG.
If you will be watching today's soccer, please feel free to share your thoughts, opinions and some play-by-play in the comments section below.
Enjoy the action (Today's schedule is after the jump):
2 p.m. – beIN Sports Connect – Villarreal vs. Real Sociedad
2:30 p.m. – beIN Sports Connect – Lille vs. Evian TG
3 p.m. – beIN Sports USA/beIN Sports en Español – Atletico Madrid vs. Real Madrid
4 p.m. – beIN Sports Connect – Valencia vs. Espanyol
4 p.m. – beIN Sports Connect – Almeria vs. Getafe