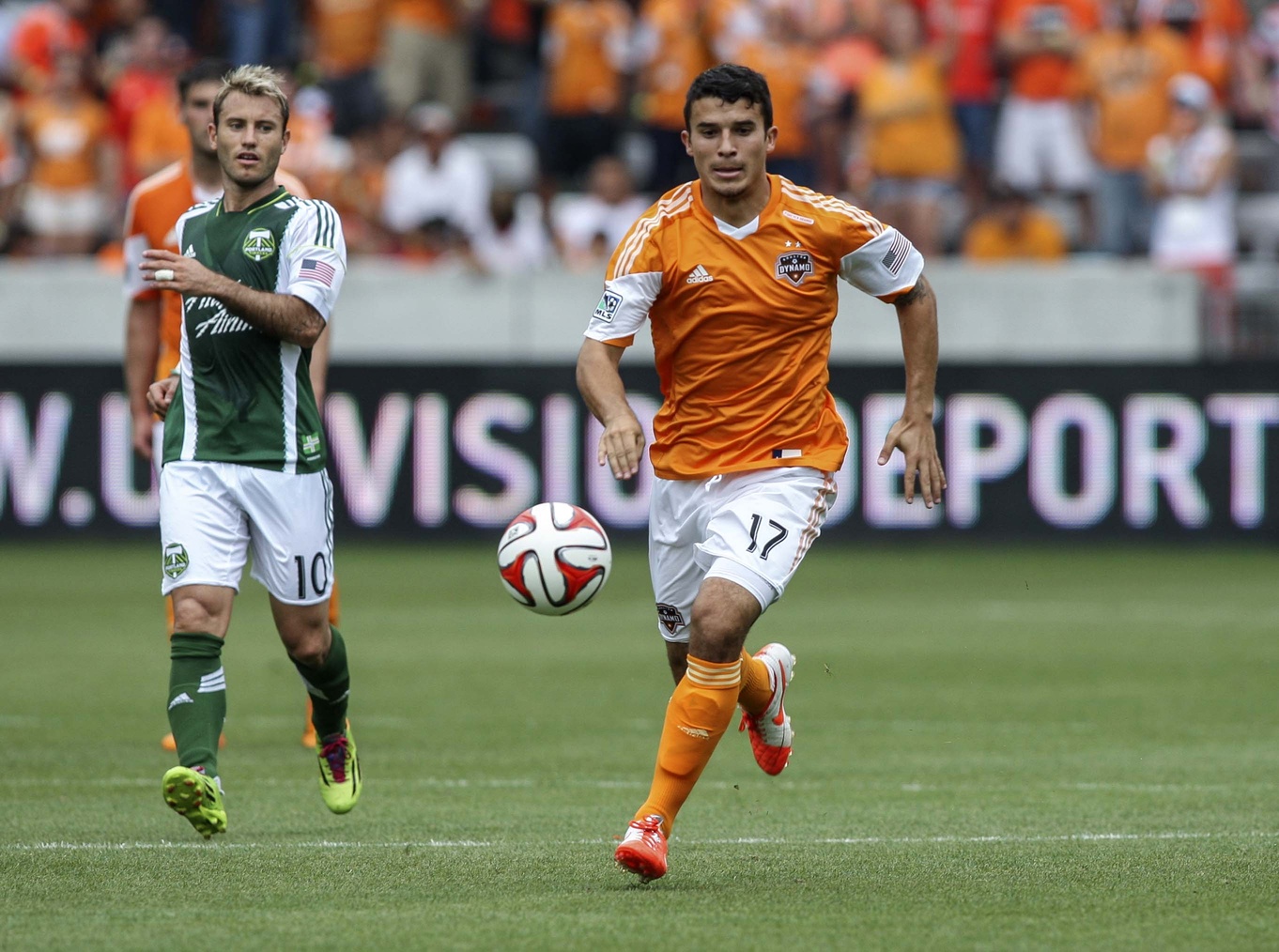 Photo by Troy Taormina/USA Today Sports
By TATE STEINLAGE 
Sporting Kansas City manager Peter Vermes indicated Thursday that the club selected three of the four players it was targeting entering the Major League Soccer SuperDraft in Philadelphia, Pennsylvania.
The fourth still remains a mystery, but Sporting KC wasted no time in seeking an alternative option by trading its 30th pick to the Houston Dynamo for midfielder Servando Carrasco.
"Based on the fact that the other player we wanted in the draft fell off the board, we were looking to do some business with Houston and were able to secure the rights to Servando Carrasco," Vermes said via teleconference Thursday. "It only made sense for us to try that opportunity and see if we can work out a contract. If we can, great. If not, we were sticking with the right players for us. We feel that we came out of the draft in a really good position."
A three-year veteran of the league, Carrasco last appeared for the Dynamo in 2013. That season, he made three appearances for Houston and 19 for the Seattle Sounders. Houston traded for Carrasco on Sept. 13, 2013.
In his MLS career, Carrasco has just one goal in 43 appearances.
Carrasco is still young at 26 years old and has the ability to provide depth in the midfield.  The defensive midfielder role has been his specialty, which has been a void Sporting KC has been trying to fill ever since Oriol Rosell left for Sporting Portugal last June. Carrasco can also play on the outside as a winger.
Since he was out of contract with Houston, Carrasco will have to come to terms on a deal with Sporting KC. If the two parties come to an agreement, he will join a talented midfield that includes Benny Feilhaber, Paulo Nagamura, Jorge Claros and recent signees, Bernardo Anor and Roger Espinoza. Espinoza, of course, played for the club for four years before moving to the Premier League in Nov. 2012.
"I see him as a holding midfielder or possibly a No. 8 in our system," Vermes said of Carrasco. "But I think his biggest position would be a No. 6 (as holding midfielder)."
Here are more Sporting KC notes:
SPORTING KC BUSY IN FIRST ROUND OF SUPERDRAFT 
Sporting KC took full advantage of its three picks in the first round of Thursday's SuperDraft.
The club selected Connor Hallisey (California), Saad Abdul-Salaam (Akron) and Amadou Dia (Clemson) with the 10th, 12th and 20th picks, respectively.
Hallisey and Salaam were present at the draft where they received their official scarf, shook hands with commissioner Don Garber — or, in Hallisey's case, took a selfie alongside — and spoke at the podium.
They also fielded questions about their experiences via teleconference following the draft.
"I'm very excited to get going at Sporting KC. It's an awesome opportunity and a great club with a good history," Hallisey said. "Peter Vermes is an awesome coach, and they play an awesome style. They have a lot of good veterans and a lot of promising young guys, so I just can't wait to go in there, learn a lot from them and be with the team."
Hallisey is a left-footed winger who Vermes says has "good athleticism and is an excellent soccer player." Hallisey scored nine goals and added 12 assists in his senior campaign at California. 
Meanwhile, Abdul-Salaam is a defender who plays the outside back role. His lengthy, 6-foot-3-inch frame lends himself to winning headers, something Sporting KC defenders have been known for in the past with players like Aurelien Collin and Ike Opara.
Once a walk-on at Akron, Abdul-Salaam netted three goals and 12 assists in his senior season.
"This is just an unbelievable day and definitely something I'll never forget," he said. "I'm glad to be in such a great place like Sporting Kansas City. I'm really looking forward to it and getting there to improve myself."
Amadou Dia was unable to attend the draft, but he too has the versatility Vermes hopes can turn into a box-to-box role. Like former midfielder Lawrence Olum, Dia can play in the midfield or on the back line. He played in 18 games for Clemson in 2014, tallying one assist.
Expectations are high for all three, but Vermes says there is no pressure for any of three to come in and start right away.
"Our position is to put a player where he is going to be successful," Vermes said. "We're going to take our time with those guys. If one of them keeps his head up and is someone who can start, we're open to that. But there's no pressure on these guys right off the bat. That's a good thing for them and a good thing for us so we can take some time and try to develop them."
OTHER NEWS AND NOTES: 
Vermes wanted Nick Besler, brother to Sporting KC defender Matt Besler, to be a homegrown player many years ago. He said Thursday that the club spoke to Besler back when "he was 15, even 14, years old." Besler needed only to play one year in the Sporting Academy to become eligible to sign as a Homegrown player, but he chose not to join.
Sporting KC will share its training site with a fellow champion. FC Kansas City of the NWSL will play and train at Swope Soccer Village in Kansas City, Missouri in 2015. The site recently 

underwent a $15.5 million expansion.

Sporting KC and USL PRO's Oklahoma Energy FC have renewed their partnership. The "multi-year" deal will see Sporting KC send players to the USL PRO side. Energy FC is coached by former Sporting KC goalkeeper Jimmy Nielsen, who received a contract extension following his first season as manager.
——-
What do you think of these notes? Do you think Sporting KC and Carrasco can come to a deal? How would you grade the club's SuperDraft?
Share your thoughts below.