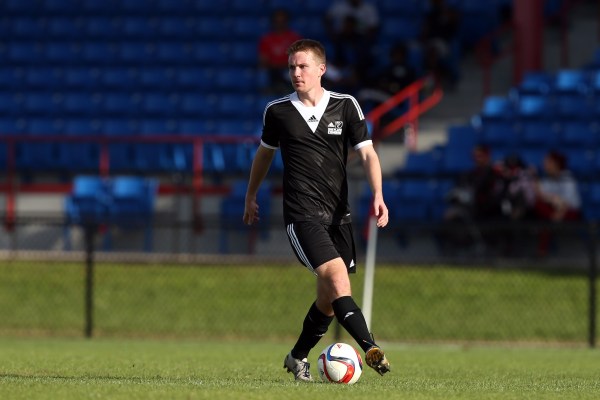 By IVES GALARCEP
LAUDERHILL, Fla.– Trying to figure out what each of the league's 20 teams are planning to do at the MLS Draft is always an exercise in futility, but the MLS Combine usually does a good job of putting the draft pool into focus, and giving us all a sense of just where players are likely to go.
Teams don't put all their emphasis on the Combine, and some teams put very little weight on the Combine when evaluating players, but it is clear based on recent drafts that teams still put their fair share of attention on the Combine, which is good news for some players, and bad news for others.
Take Ramon Martin Del Campo. The UC-Davis defender generated buzz after reportedly showing well while training against, and playing against the U.S. World Cup team during the team's pre-World Cup training camp. That led to a snowball effect of buzz for the little-known defender, and he even parlayed that into a senior contract with MLS. The consensus at the Combine is that he doesn't look the part, and is tumbling down the draft boards of several teams. All that said, it only takes one team to be big fans of his to have Del Campo go in the first round, and the fact he was able to secure a senior contract suggests that there is at least one team that rates him that highly.
Then you have a player like Dzenan Catic, who wasn't that well known by many MLS teams before the Combine, but who has caught the attention of multiple teams, and could be this year's version of Tesho Akindele, who went from unknown before the MLS Combine to first round pick, and eventual MLS Rookie of the Year.
The MLS Draft has had some top-rated players fall out of the picture in recent days. UCLA midfielder Leo Stolz and Northwestern goalkeeper Tyler Miller were two of the highest-rated players in the draft pool, but both have decided to try their luck in Europe. That will make them both very unlikely to be selected in the first round of the MLS Draft, and they may not go until the third or fourth round, when some teams could be tempted to take a flyer.
SBI's second MLS Mock Draft takes into account the performances of players from the first two Combine days, how coaches and general managers are viewing those performances, and how positional battles are shaping up.
Here is the latest SBI 2015 MLS Mock Draft:
SBI 2015 MLS MOCK DRAFT (Version. 2.0)
1. ORLANDO CITY- Cyle Larin, Forward, UConn
Top prospect in the draft goes to a team that can bring him along slowly.
2. NEW YORK CITY FC- Cristian Roldan, Central Midfielder, Washington
Jason Kreis loves skilled midfielders and Roldan has the sort of tools Kreis can mold into something special.
3. MONTREAL IMPACT- Khiry Shelton, Forward, Oregon State

The Impact can use some flank depth and Shelton can play wide in a 4-5-1 or as a striker in a 4-4-2. Count Montreal as a team that could definitely trade up to the top pick to select Cyle Larin.
4. SAN JOSE EARTHQUAKES- Romario Williams, Forward, Central Florida

Dom Kinnear's squad can use some depth at forward, and adding a Generation adidas player wouldn't hurt San Jose's salary cap situation either.
5. PORTLAND TIMBERS- Nick Besler, Central Midfielder, Notre Dame

The Timbers can use some depth in central midfield and Besler is as polished as they come in this draft.
6. TORONTO FC- Alex Bono, Goalkeeper, Syracuse
TFC can use salary cap relief, and also want to stockpile some young talent, making Bono an easy call on multiple fronts. It doesn't hurt that Bono recent received his first U.S. national team call-up.
7. CHICAGO FIRE- Axel Sjoberg, Central Defender, Marquette

The Fire have spent the offseason massively overhauling their roster, and one of the areas still lacking some depth is central defense. Sjoberg is a giant at 6-foot-7, but reads the game well and puts himself in good positions to avoid having his lack of pace exposed.
8. HOUSTON DYNAMO- Dan Metzger, Central Midfielder, Maryland

The Dynamo bolstered their central defense with the signing of Spanish centerback Raul Rodriguez, leaving Houston loaded at two positions where this year's draft is the strongest. One area Houston can use some depth is in defensive midfield, where Metzger can provide quality off the bench and be groomed into a starter down the road.
9. TORONTO FC- Fatai Alashe, Defensive Midfielder, Michigan State
10. SPORTING KANSAS CITY- Tim Parker, Central Defender, St. John's
11. TORONTO FC- Otis Earle, Left Back, UC-Riverside
12. SPORTING KANSAS CITY- Andy Thoma, Left Back, Washington

13. VANCOUVER WHITECAPS- Conor Donovan, Central Defender, North Carolina State
14. COLUMBUS CREW- Connor Brandt, Left Back, San Diego

15. FC DALLAS- Aaron Simmons, Central Defender, UCLA
16. REAL SALT LAKE- Dzenan Catic, Forward, Davenport (NAIA)

17. D.C. UNITED-  Eric Bird, Central Midfielder, Virginia

18. NEW YORK RED BULLS- Connor Hallisey, Left winger, California
19. COLORADO RAPIDS- Boyd Okwuonu, Right Back, North Carolina

20. SPORTING KANSAS CITY- Miguel Aguilar, Right Winger/Forward, San Francisco
21. LOS ANGELES GALAXY- Andy Craven, Forward, North Carolina

SECOND ROUND
22. ORLANDO CITY- Oumar Ballo, Central Defender, UMBC
23. NYCFC- Anthony Manning, Central Defender, Saint Louis
24. PORTLAND TIMBERS- Jose Ribas, Left Back, Creighton
25. ORLANDO CITY- Ignacio Maganto, Central Midfielder, Iona
26. COLORADO RAPIDS- Akeil Barrett, Left Winger, Tulsa

27. SEATTLE SOUNDERS- Ramon Martin Del Campo, Central Defender, UC-Davis
28. CHICAGO FIRE- Daniel Keller, Central Defender, Louisville
29. TORONTO FC- Sergio Campbell, Central Defender, UConn
30. SPORTING KC- Matt Polster, Central Midfielder, SIU-Edwardsville
31. PHILADELPHIA UNION- Zach Steinberger, Central Midfielder, Butler
32. PORTLAND TIMBERS- Sal Bernal, Forward/Attacking midfielder, UNLV
33. NEW ENGLAND REVOLUTION- Seth Casiple, Central Midfielder, California
34. PORTLAND TIMBERS- Luke Mishu, Right Back, Notre Dame
35. COLUMBUS CREW- Wes Charpie, Right Back, South Florida
36. HOUSTON DYNAMO- James Rogers, Right Winger, New Mexico
37. TORONTO FC- Andrew Bevin, Forward, West Virginia
38. VANCOUVER WHITECAPS- Shawn McLaws, Right Back, Coastal Carolina
39. NEW YORK RED BULLS- Cameron Porter, Midfielder, Princeton
40. SEATTLE SOUNDERS- Oniel Fisher, Right Back, New Mexico
41. PHILADELPHIA UNION- Emeka Onyonye, Central Defender, Wright State
42. D.C. UNITED- Robbie Lovejoy, Forward, North Carolina