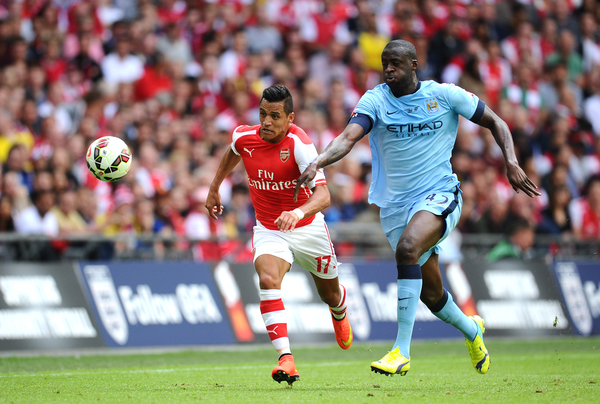 ISIPhotos.com
By ADAM TROXTELL
Two in-form teams lock horns in an anticipated clash at the Etihad Stadium on Sunday.
The Barclays Premier League's highlight of this weekend's round of games is Manchester City's meeting with Arsenal. The Gunners have won four of their last five games and sit a point off of fourth place. Meanwhile, Man City is chasing down Chelsea at the top of the table and hasn't lost since Nov. 5.
Arsenal and Man City's past two meetings have resulted in a draw, while the Citizens hold a 5-4 edge in wins over the last 13 games. Elsewhere in England, Chelsea heads to Swansea while Manchester United hopes to stay in fourth after its trip to play Queens Park Rangers.
In Spain, the top trio of Real Madrid, Atletico Madrid and Barcelona will all be eyeing three points against relegation-threatened opponents. Real will also be looking to bounce back after it was knocked out of the Copa Del Rey by Atletico on Thursday.
In Italy, Roma could have a hard time handling Palermo on the road. The 10th-ranked team in Serie A has only lost one of its nine home games this season.
Here's this weekend's soccer on TV (listing after jump):
FRIDAY
2:30 p.m. – beIN Sports USA – Bordeaux vs. Nice
2:45 p.m. – beIN Sports en Espanol – Cordoba vs. Eibar
8:30 p.m. – ESPN Deportes – Queretaro vs. Universidad Guadalajara
9:30 p.m. – Univision Deportes – Veracruz vs. Puebla
10:30 p.m. – ESPN Deportes – Tijuana vs. America
SATURDAY
7 a.m. – beIN Sports USA – Derby County vs. Nottingham Forest
7:45 a.m. – Fox Soccer Plus – Hamilton Academicals vs. Celtic
10 a.m. – NBCSN – QPR vs. Manchester United
10 a.m. – Premier League Extra Time – Aston Villa vs. Liverpool
10 a.m. – Premier League Extra Time – Burnley vs. Crystal Palace
10 a.m. – Premier League Extra Time – Leicester City vs. Stoke City
10 a.m. – Premier League Extra Time – Swansea City vs. Chelsea
10 a.m. – Premier League Extra Time – Tottenham Hotspur vs. Sunderland
10 a.m. – beIN Sports USA – Millwall vs. Ipswich Town
10 a.m. – beIN Sports en Espanol – Real Sociedad vs. Rayo Vallecano
Noon – beIN Sports USA – Empoli vs. Inter Milan
Noon – beIN Sports en Espanol – Valencia vs. Almerica
12:30 p.m. – NBC – Newcastle United vs. Southampton
2 p.m. – beIN Sports en Espanol – Villareal vs. Athletic Bilbao
2:45 p.m. – beIN Sports USA – Palermo vs. Roma
6 p.m. – Univision – Cruz Azul vs. Santos Laguna
8 p.m. – Univision Deportes – Monterrey vs. Pachuca
9 p.m. – Telemundo – Leon vs. Tigres
10 p.m. – Univision Deportes – Atlas vs. Morelia
SUNDAY
6 a.m. – beIN Sports USA – Getafe vs. Real Madrid
8:30 a.m. – NBCSN – West Ham vs. Hull City
9 a.m. – beIN Sports USA – Milan vs. Atlanta
11 a.m. – NBCSN – Manchester City vs. Arsenal
11 a.m. – beIN Sports USA – Atletico Madrid vs. Granada
1 p.m. – beIN Sports USA – Deportivo La Coruna vs. Barcelona
2:45 p.m. – beIN Sports USA – Juventus vs. Hellas Verona
3 p.m. – beIN Sports en Espanol – Sevilla vs. Malaga
6 p.m. – UniMas – Guadalajara vs. Pumas
8 p.m. – Fox Sports 2 – Jamaica U20s vs. USA U20s