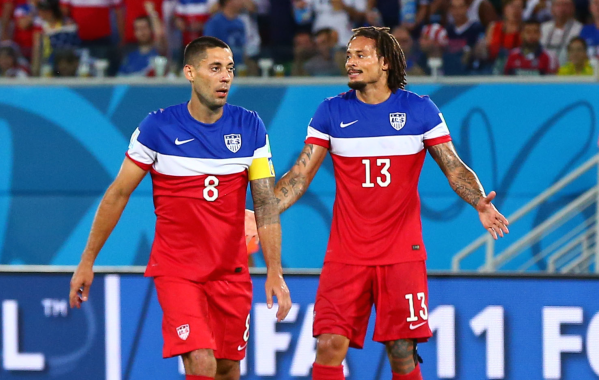 Photo by Mark J. Rebilas/USA Today Sports
By FRANCO PANIZO
Jurgen Klinsmann scheduled a number of tough opponents to challenge his U.S. Men's National Team during the six months before this summer's Gold Cup.
The first test of 2015 comes on Wednesday, in unfamiliar territory, against an opponent that should offer a difficult challenge even without its World Cup stars.
The U.S. opens a busy 2015 on Wednesday evening, visiting a Chile team that is comprised completely of domestic-based players. The match at Estadio El Teniente in the central city of Rancagua marks the U.S. team's first on South American soil against South American competition since the 2007 Copa America. The friendly will give Klinsmann an opportunity to see both veteran mainstays and unproven talents in a hostile environment, and potentially in a new tactical system.
No, Chile does not have the game-changing likes of Alexis Sanchez and Arturo Vidal. But combine the rowdy atmosphere the home crowd is likely to provide with a squad of in-season Chilean players hungry to impress ahead of this summer's Copa America – which is in their home country, no less – and you get the type of recipe that even an Iron Chef would struggle with.
"We know that those are all very ambitious players," said Klinsmann. "They want to prove to (manager Jorge) Sampaoli that they belong in the first group, they want to impress the players that are right now in Europe. We expect a very aggressive, a very energetic Chilean team and we've prepared our team for that. Hopefully, we hold our ground and go in the other direction as well."
Chile's squad includes several players seeking their first cap, but also boasts some talented veterans such as former Liverpool striker Mark Gonzalez and long-time Serie A midfielder and 2014 Chilean League MVP Jaime Valdes. Promising young striker Juan Delgado is one to watch in the Chile attack, while veteran defenders Gonzalo Fierro and Jose Rojas (the lone member of the 2014 Chile World Cup team on the current roster) should anchor the defense in Chile's preferred 3-5-2 system.
The friendly could be Klinsmann's debut of a new formation for the Americans. The U.S. has spent portions of its month-long training camp working on a formation that includes a three-man back-line. It's a completely different look than what the Americans have used under Klinsmann, or any head coach for much of the past decade, but one that might be worth experimenting with given the options available.
Several of the U.S.'s top stars are at Klinsmann's disposal, including Clint Dempsey, Jozy Altidore, Michael Bradley and Jermaine Jones. But the U.S. head coach has also summoned lesser-proven players and promising prospects in an effort to further evaluate the talent pool. The blend of players has made for a roster that is strong down the middle but lacking out wide, which is why a variation of a 3-5-2 or 3-4-3 formation may be deployed.
That setup would require the U.S. to have three players at the back who are both strong defensively, and good passers. Klinsmann said last fall that he thought Jones could serve as a centerback this cycle, so the New England Revolution Designated Player is a good bet to serve as the anchor of the defense. Fellow World Cup veteran Matt Besler also appears likely to draw a starting nod as a left centerback, leaving Steve Birnbaum, Matt Hedges, Shane O'Neill and Perry Kitchen to battle for the final slot in the back.
In terms of the attack, Altidore and Dempsey are good bets to spearhead the attack, with Michael Bradley and Mix Diskerud expected to reprise their recent partnership in central midfield. The Bradley-Diskerud tandem has produced mixed results playing in a 4-4-2, but a shift to a 3-5-2 could help add a third player to the central midfield mix.
Lee Nguyen – the only player on the current roster to have played in the U.S.'s last non-World Cup match in South America nearly eight years ago – could earn his first start under Klinsmann after showing well in his cameo vs. Colombia in November. Nguyen was one of the better attacking players in MLS last season, and possesses a good combination of technical quality, confidence and flair that could match some of the Chileans.
Whatever lineup Klinsmann settles on, he will be hoping for a good result to start 2015 on a good note, especially after seeing the U.S. end 2014 with a whimper. His players will be eager to not only impress their coach, but start a busy year in style.
"We've been putting in a lot of work. We're excited to play," Dempsey said. "We're ready to go out there and have fun and play a game. I'm sure it'll be an exciting one, and we're looking to kick start 2015."