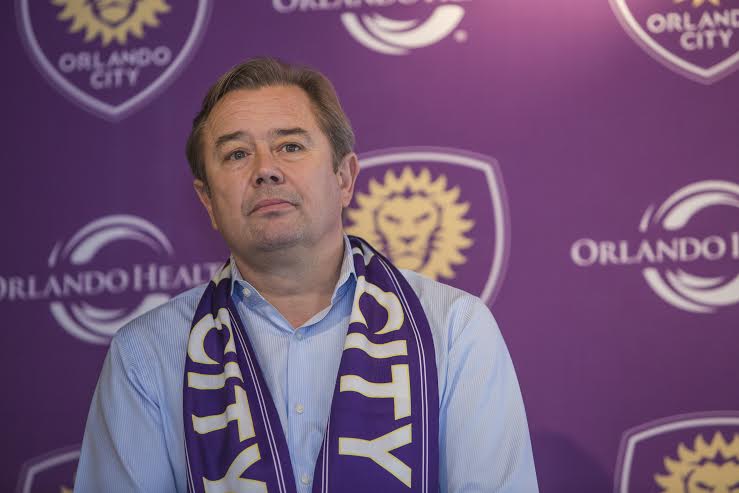 By MIKE GRAMAJO
LAKE MARY, Fla. — Adrian Heath's squad may be relatively young, but that isn't stopping the Orlando City head coach from setting lofty goals ahead of the team's first MLS campaign.
"We have a tremendous batch of young players," Heath told reporters during the club's media day on Friday. "We've got nothing to fear. We can go out and play aggressive and positive, and make a stamp in this league.
"Nobody puts more pressure on themselves than I do. We want to get in the forefront of everything. There is no reason why we can't be a major team in North America. We think we're going to be competitive. The more I see the group, the more convinced I can be."
With more high-profile players making their way to large MLS markets in 2015, Heath said that he isn't afraid to build with younger players. The former Everton striker emphasized building around Kaka while planting the seeds for long-term success.
"It's a little bit different," said Heath. "I don't know the average age of that team is, the 35-years old they've been bringing in. I'll stick with our 20-year, 19-year and 23-year-olds and work with them. It's all about supporting Kaka."
Heath rejected claims that his team is too young, pointing at veterans Aurelien Collin and Danny Mwanga, who have each played in roughly a hundred MLS games. With a mix of veteran players and inexperienced prospects, Heath believes the team is built for both present and future success.
That belief was bolstered Monday, when the club added a pair of young Colombian midfielders: 20-year-old Carlos Rivas and 21-year-old Cristian Higuita. Joined by veteran forward Martin Paterson, Monday's transactions highlighted the team's belief in surrounding experience with youthful exuberance.
Kaka, who signed with Orlando City last summer as the club's first Designated Player, also provided commentary about playing with a young team.
"Even if I won a lot of things in my career, I can still have the motivation to win," Kaka said. "Everyday I'll show them my professionalism, and show them how I can win with them and be successful in this league."
Donovan Ricketts, another MLS veteran selected by the Lions during the Expansion Draft, acknowledged that his back line is the youngest he's ever played behind. 
"I guess I'll have to shout more," Ricketts said jokingly when asked about playing alongside a youthful defense. "When you're playing with more experienced people you allow them to know what they're going to do. When you have youth, they're excited and eager to learn, so we're going to need everyone to be on the same page as quickly as possible."
 Orlando City plays its first friendly when they take on fellow expansion side New York City FC on Feb. 21 during the opening game of the Carolina Challenge Cup.