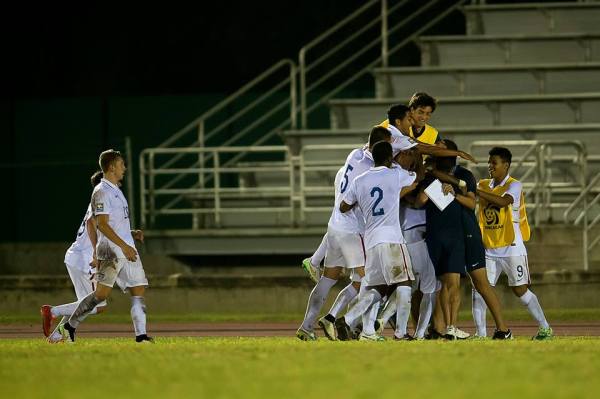 By RYAN TOLMICH
It was far from a vintage performance, but the U.S. Under-20 Men's National Team did just enough to stay on course for a place in the Under-20 World Cup.
After a lackluster 77 minutes, forward Bradford Jamieson IV finally gave the U.S. the breakthrough the team needed, as the Americans topped Trinidad and Tobago, 1-0. The victory puts the U.S. through to a one-game playoff for the chance to play in the Under-20 World Cup.
Jamieson IV's breakthrough came in the 78th minute when the U.S. finally caught T&T with a counter attack. Set up by substitute Paul Arriola, Jamieson provided the finish that the U.S. had been lacking to seal the U.S. victory.
Much like a majority of their recent performances, the U.S. stuttered through the opening half, as the team as a whole struggled to combine on less-than-ideal field conditions. After weathering an early T&T storm that saw a few scares, the U.S. dominated a majority of the half with little to show for it.
Led by Emerson Hyndman and Romain Gall, the U.S. created a few legitimate chances in the opening stanza, but failed to put together anything of note. Gall fired wide on a chance to give the U.S. the lead in the 31st, while Hyndman's dancing effort was parried away by goalkeeper Johan Welch.
The vast majority of the second half was much of the same, although Jamieson nearly provided the U.S. with a spark in the 50th minute. With a wide open net, the LA Galaxy forward's shot was cleared off the line by T&T's Neveal Irwin Hackshaw.
T&T responded with a series of chances leading up to Jamieson's finish, the best of which resulted in a shot that was claimed by U.S goalkeeper Zack Steffen.
While a draw wold have been a suitable result, Jamieson's late finish left no doubt, as theU.S. finished second place in the group.
As a result of Wednesday's victory, the U.S. will play the later game Saturday against either Honduras, El Salvador or Cuba.
—-
What did you think of Wednesday's performance? Which players stood out to you? Which changes, if any, do you expect to be made for Saturday?
Share your thoughts below.