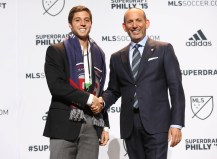 Photo by Bill Streicher/USA Today Sports
By RYAN TOLMICH
PHILADELPHIA — Matt Polster made the trip to the 2015 MLS draft just hoping to be selected. But Commissioner Don Garber called Polster's name with the seventh overall pick in the draft, announcing that Polster had been selected by the same Chicago Fire team he played for in the Premier Development League.
The pick turned more than a few heads at the Philadelphia Convention Center.
Polster isn't a big-school product, and his name wasn't listed near the top of any draft boards heading into last week's draft. A strong showing at the MLS combine figured to boost his stock, but even Polster couldn't have imagined just how much.
"It was a little out of left field. I didn't think I would go this high," Polster said. "I thought I put in a good performance during the combine with three games in five days. I thought I put in three really good performances, so after that I felt much better about it. I'm very happy that Chicago believed in me this much, so now I've got to look forward and start working.
"I talked to Chicago a little bit and, in the meeting, they seemed pretty interested. I don't want to say it's a shock. I felt confident. I'm happy, very happy."
As much as the Polster's selection by Chicago surprised some, the Fire were far from the only team that considered Polster a first-round talent. Orlando City was one of a handful of teams that came away from the combine impressed enough to move Polster up their draft boards.
The Fire's selection came as a surprise to some due to the university attached to his name: Southern Illinois University – Edwardsville. Far from a perennial powerhouse, the Cougars finished the NCAA regular season with a losing record before advancing to the NCAA tournament by winning the Missouri Valley Conference Tournament.
Polster, who previously made the four-hour drive from Edwardsville to Chicago for PDL matches, understood from the start that attending a smaller school could potentially be a detriment to his draft stock. His play in PDL, and at the MLS combine, helped offset that. The same applied to Polster's college teammate, forward Christian Volesky, who won the MLS combine MVP award before being selected in the second round by the Portland Timbers.
"After the combine, I thought I was going to go higher," Polster said. "Before, because I was from a small school, I didn't now if I was on the radar as much as I am. The combine helped. Not saying I couldn't go high, but with a small school, people look at bigger schools. That's just the thing.
"Coming from a small school, it's harder to get on the map because you can't make the tournament through the at-large bids, but I've seen kids from small schools make it," Polster said. "I'm not saying that it's impossible and I'm not saying that small schools are bad. I went there for a coach. His name is Kevin Kalish. He was a big, big influence on my game and I knew I needed to learn still, so that's why I went there."
Polster's has evolved into a versatile player. Although he featured as a center back in college, the Fire see Polster as more of a central midfielder, a position Polster believes is best for his future success.
"In our meeting, they think I can play center mid. I'm not sure what that entails," Polster said. "Maybe it's a six, maybe it's an eight, maybe it's even a 10, I don't know, but they seem confident that I can do it at center mid, so we'll see where that lies.
"Center back and center mid to me are kind of close. For me, as a center back you do the same things as a center mid, but you don't have as much pressure. You have more time on the ball. I think the speed of play is switched from center back to center mid, which I can adapt to."
During his time with the media, Polster repeatedly reiterated that, despite his draft standing, "nothing's guaranteed." While he believes that his versatility in both midfield and defense could be a major element in earning playing time, Polster understands that his work ethic and commitment to improving will be the biggest factor.
"I have to get in and just work hard. If I do those things, I think I can try (to earn minutes)," Polster said. "I just have to see what lies ahead. I really don't know."
"I have to get back at it, honestly. Nothing's guaranteed. The moment's great, but the moment's gone a little bit now. I know what's ahead and I know I have to work hard."