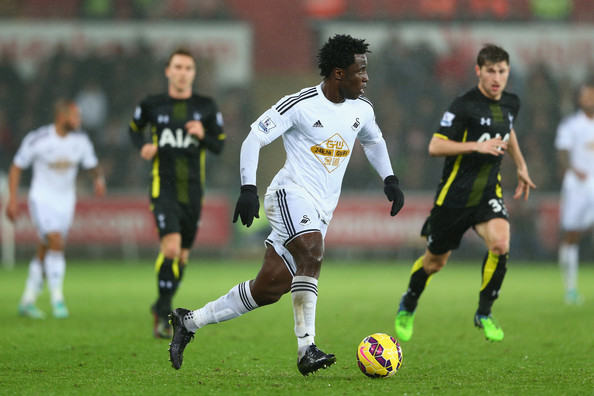 By RYAN TOLMICH
Manchester City have added another scoring threat to their ranks.
The club announced the addition of forward Wilfried Bony from Swansea on Wednesday, as the Ivorian striker joins the reigning champions as the highest scorer of the 2014 calendar year.
"As a player it's always good to be part of one of the biggest clubs in the world and it's a good opportunity for me to be in that situation now," Bony said. "I'm really proud. I felt excited to wait for this moment and now it's come, it's fantastic. I think it's a great decision for me – Manchester City is in the Champions League.
"You remember at the end of last season I said that if I want to move it will be to a team in the competition because it's a great tournament that I really want to play in and one that I want to win. It's a motivation for me to give my maximum to be in that place. City is a big club with great players with a lot of experience; I believe we can do it."
Here are some more of Wednesday morning's news and notes:
AGENT REVEALS POGBA COULD LEAVE JUVENTUS
Midfielder Paul Pogba pledged his long-term future to Juventus by signing a new deal in October, but that extension may not be enough to keep him in Serie A.
Pogba's agent, Mino Raiola, insists the 21-year-old midfielder is willing to leave the club if the right situation arises, as Raiola believes that the Italian game cannot afford to hold onto the French star.
"No. We are happy with Juve, we have extended the contract," Raiola said. "It's all fine [but] whether this season or the next, when the right moment comes [to leave], we'll take it."
LAHM HOPING TO RETIRE WITH BAYERN IN 2018
Phillip Lahm is expecting to retire as a Bayern Munich player.
The German international says he will call it a career at the expiration of his contract in 2018 and is hoping to secure one more Champions League title before retiring.
"My contract with Bayern expires in 2018. I will be 34 by then, that will be the right time to end my career," Lahm said. "I don't see myself making the move to Qatar or the USA. I want to end my active career while I'm still on top of my game.
"I want to win another Champions League title with Bayern. It's the biggest goal I have now and I think we can even win it this season. Our main rivals are Real Madrid, Chelsea and Barcelona. PSG? I'd like to see them against Chelsea. They make progress every year, so we will have to wait and see whether they can also challenge for the Champions League."
QUICK KICKS
Thierry Henry "thought it was a joke" when he heard of Arsenal fans' criticism of Arsene Wenger in December. (REPORT)
Paris Saint-Germain's League Cup match at St. Etienne was halted for 15 minutes after home fans threw objects onto the pitch following what turned out to be the game-winning goal from Zlatan Ibrahimovic. (REPORT)
Inter Milan manager Roberto Mancini says Mario Balotelli "is weaker in every aspect" following his departure from Manchester City. (REPORT)
Newcastle United players are pushing the club to announce a new manager. (REPORT)
—-
How will Bony fare at Man City? Which clubs do you expect to chase after Pogba? What do you expect from Lahm for the remainder of his career?
Share your thoughts below.