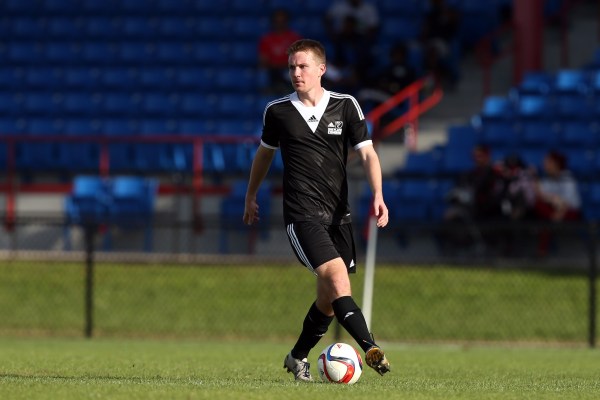 Photo courtesy of Andy Mead
/MLS  
By FRANCO PANIZO
LAUDERHILL, Fla. — Any little brother knows that annoying comparisons to big brother are inescapable in life, regardless of how similar or different they may actually be.
Count Nick Besler among those little brothers.
Besler is the younger sibling of Sporting Kansas City and U.S. Men's National centerback Matt Besler. It is a label he isn't ashamed of, but a label that has proven irritating at times. Like any little brother, Nick wants to be known for who he is and what he does on the field but talk of Matt occurs more often than desired. It's natural, of course, given that they both went to Notre Dame and will soon make a living playing professional soccer in MLS, but that does not make it any less frustrating.
"It can get annoying at times, but it's nothing he did on purpose," said Nick Besler. "He's not going around telling people, 'Whenever you talk about my brother, you mention me,' so definitely no hard feelings about that towards him. It's fine. Most of the time it's good stuff."
While the comparisons may be of the complimentary variety, the 21-year-old Besler does not sound like a player who wants to mired in his older brother's sizable shadow. He wants to cast his own, and is looking to do so at the annual MLS Combine.
In that respect, he is off to a good start. Besler looked as solid as the normally challenging first day of the event allows, breaking up plays and getting on the ball to help his Nitro Charge team keep Predator off the scoresheet in a goal-less draw.
Questions about big brother eventually came, however, and the ensuing responses came in mannerisms, a talking style and midwestern accent that all resemble Matt.
"We're similar, but we're definitely different," said Besler, who is an inch taller than his six-foot, older brother. "We play different positions, we have different strengths, different weaknesses. I think something that I'm pretty confident at whenever I'm on the field is kind of just directing the play, moving the ball side to side, keeping it, pretty comfortable in tight spaces and getting out of it.
"It's just different. As a centerback you might have more time clip long balls and stuff, whereas in the middle of the midfield you're working through tight spaces, trying to slip a forward in."
It might seem like the sibling rivalry is alive and well, but there is also plenty of brotherly love between the two. Matt gave Nick some tips and suggestions for how to approach the combine, which the former took part in back in 2009 before being drafted by Kansas City.
"It's a great resource for me, someone who six years ago did the same exact thing, was kind of in this same position," said Nick Besler. "I've definitely used that resource, but at the same time, I'm somewhat independent so I like to feel things out for myself.
"He said not to worry too much about who's all talking to (you) and kind of how well you did or specific plays and just be yourself, play your own game and you'll be fine."
Nick Besler was happy with his first-day performance, but knows that there are things he could improve on ahead of Sunday's second round of matches. He is hoping to be able to showcase more of his smarts and technical skills on Sunday, as well as his ability to really set the tone.
"Just control the tempo of the game and kind of dictate to the other team," said Besler. "It can be difficult and whenever it is difficult, I think it's my fault because as a center midfielder I've got to demand the ball, I've got to come back and get the ball and get the ball off my feet and kind of set the tempo for our own team. Whenever we are kind of losing the tempo of the game, I like to say some of it's my fault and I need to kind of get the tempo back in our favor."
Accomplishing all that might raise Besler's stock, but it will also likely increase the comparisons to Matt. Such is the life of a little brother.