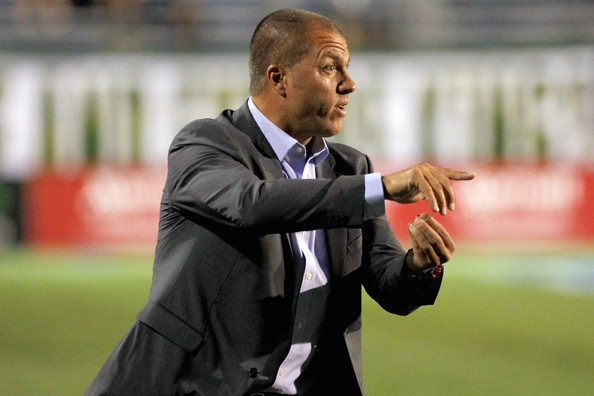 By RYAN TOLMICH
The NASL season is rapidly approaching and the New York Cosmos are preparing for a preseason that will take the club to three different continents and give new additions plenty of chances to impress.
Head coach Giovanni Savarese revealed on Wednesday that the Cosmos already have a few new faces preparing for the club's opening trip to Hong Kong, including former Toronto FC defender Nana Attakora and Philadelphia Union defender Austin Berry, currently a trialist with the club with views toward a potential loan.
In addition, the club has been linked with Argentine defender Samuel Caceres and Chile's Jaime Valdes in moves that Savarese said remain works in progress.
"They're definitely players that we have been conversing with," Savarese said via teleconference. "One of them (Attakora) has been training with us at the moment and we are evaluating the possibility to be able to keep him. The other ones, we are advancing in the possibility to join us. On the point of Caceres, this is something that is in the works… We have been speaking with him.
"As well as Valdes, he's a player that has been talked about and we feel that we are deciding and looking at the situation there. We right now are focusing on that we have the positions that we have now."
Berry and Attakora, boasting a combined 146 MLS appearances between them, would bring welcome experience to a Cosmos side that struggled on the defensive end last season. Caceres, a 25-year-old defender out of Argentina's Nuevo Chicago, would also bolster the back line, while Valdes would add experience to a midfield following a career that has seen the 34-year-old spend time in Portugal, Italy and his native Chile.
Savarese pointed to the Cosmos' recently announced reserve side as a major factor in player acquisition. Due to the increased opportunities that come with having a second team, Savarese is not afraid to give extra players looks in the coming weeks, including in the upcoming trips.
"We have Austin Berry, who will be traveling. Attakora will be traveling with us and we'll have a few more players that will be with us. We haven't finalized the roster. We're still looking at players and there will be some other players that will be coming with us to Hong Kong and then we will decide whether we want to go into the direction to sign them."
Overall, Savarese is hoping to look at both trialists and his full squad throughout the club's busy preseason. With trips to Hong Kong, California and El Salvador on the horizon, the Cosmos will have plenty of chances to both train and play out of the club's normal element.
"It's important for us in the preseason to play these kinds of matches, competitive matches, that are going to help us see the players, try different things and, especially, be able to practice in a warm weather location," Savarese said. "For us it's exciting to travel first to Hong Kong, being able to be there, playing a competitive match against South China before coming back to California to play these two matches that we have here.
"We're excited. We're happy to have been able to schedule these matches to prepare."