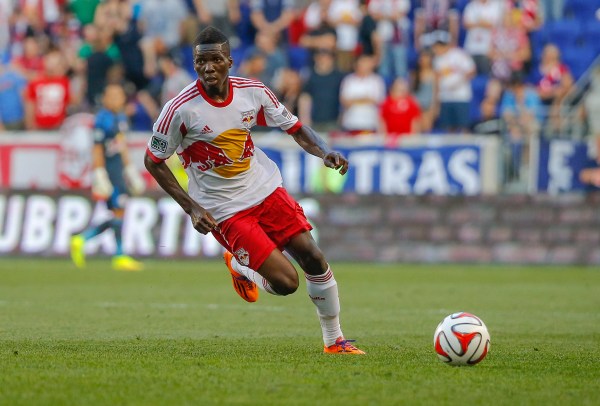 Photo by Jim O'Connor/USA Today Sports
By ADAM TROXTELL
The Montreal Impact have suspended Cameroonian defender Ambroise Oyongo without pay as a dispute over his contract continues.
Traded to the Impact from the New York Red Bulls late last month, Oyongo has yet to report to Montreal's preseason camp after competing in the Africa Cup of Nations with Cameroon. His representatives and the Cameroon Football Federation have since said that Oyongo's contract with MLS and the Impact is void because of his former club's amateur status.
Impact technical director Adam Braz told MLSsoccer.com, however, that the 23-year-old Oyongo is rightfully one of their players.
"He's clearly under contract with MLS and, subsequent to the trade, he's our player," said Braz. "On our end, we're calm, and it's clear he's in breach of contract. He's suspended without pay until he arrives for training camp, and now, we've been in touch closely with the league, and they're taking matters to FIFA and to the Cameroonian Federation."
Braz added that he is confident Oyongo will report as a Montreal player when all is said and done.
How do you see this ending? Will Oyongo even suit up for the Impact this season? Liking the Red Bulls' side of the trade more and more?
Share your thoughts below.