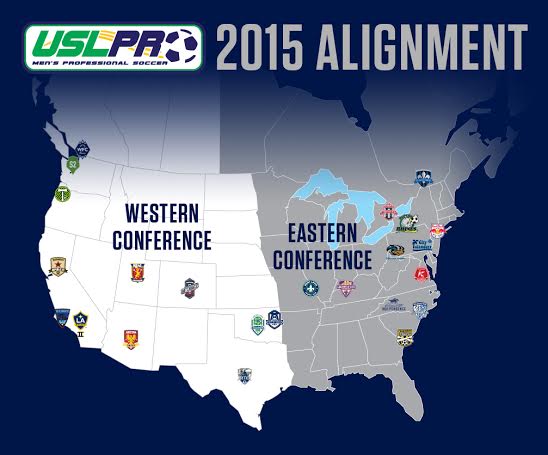 By RYAN TOLMICH
After experiencing unprecedented off-season growth, it's set to be a busy year for the USL Pro.
The league announced its full 24-team, 336 game schedule on Monday, as the USL Pro gets set for kickoff on March 21. The league is set to see the debuts of 11 new franchises in 2015, seven of which are tied with MLS clubs.
Split into two, 12-team conferences, teams will face each conference opponent at least twice while the additional six games will be matchups against geographic rivals.
"With the remarkable growth of the league during the offseason, this schedule reflects the increased focus on regional rivalries," USL PRO Executive Vice President Jake Edwards said. "We are excited that many of the league's home openers will give away fans the opportunity to follow their teams on the road to start the season and provide a truly special atmosphere. We expect a great year of action as the league's regular-season schedule expands to 27 weeks."
The league's opening weekend will kickoff with three games, headlined by defending champion Sacramento Republic's matchup with Sounders 2. In addition, Toronto FC II will take on the Charlestown Battery, while the Real Monarchs travel to StubHub Center to face LA Galaxy II.
The regular season will conclude the weekend of September 19-20, as the top six finishers in each conference advance to the four-week, single elimination playoffs.
—-
What do you think of the USL Pro schedule? What matchups stand out to you? Who are your preseason favorites?
Share your thoughts below.