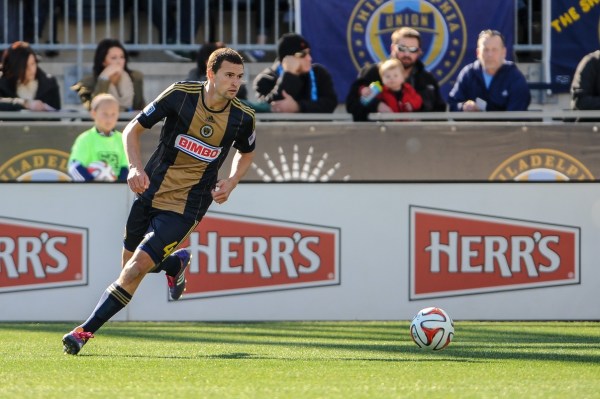 Photo by John Geliebter/USA Today Sports
By RYAN TOLMICH
After spending the last few months in limbo, Austin Berry is set to embark on a new adventure, one that will take him halfway across the world from his previous home with the Philadelphia Union.
Berry is set to join FC Anyang of South Korea's K League Challenge on loan from the Union and will join up with his new team Wednesday, one month ahead of the start of the K League season. The move for Berry comes after an offseason-long search for a new club, which included a training stint with the New York Cosmos that failed to produce a deal.
The 26-year-old centerback, who was recognized as MLS Rookie of the Year in 2012, told SBI that the process "moved pretty quickly" and that he has no hard feelings with regards to how things ended with the Union. Although he has never been to Asia, Berry is looking forward to the new experiences that come with a move abroad.
"I always thought soccer would be something that would take me on a little bit of an adventure, take me out of my comfort zone and into a different culture," Berry told SBI. "Over the last few months, I didn't know where it would take me.
"People have been asking me if I'm nervous at all, but since it's been brought up, I've been really excited about it," he added. "I'm really eager to get over there and I want to embrace it as much as I can, learn the culture, learn the language and kind of build a future for myself."
That future begins with the move to South Korea. Berry played just six games last season for the Union in a campaign that was marred by injuries, but the centerback is looking forward to getting a chance to prove that he can remain healthy for the long haul.
"I'm just focusing on taking it one day at a time right now," Berry said. "Nothing's really going to happen for me if I don't stay healthy and have a good year. I'm really going to embrace this experience and I can really see myself staying overseas for a long time now. It's a good situation and I like it. I'm not looking at it as a stepping stone. I'm looking at it as a possible permanent stop for me.
"I've just got to get some games back under my belt. I want to go in, compete, earn my spot on the team, get some games in and show what I can do and see where it takes me over there."
—
What do you think of Berry's move? See it as a good one for his career, or wish he would have stayed in MLS?
Share your thoughts below.