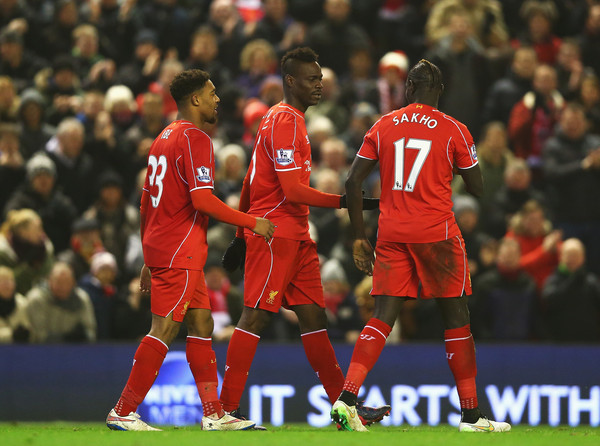 By RYAN TOLMICH
Mario Balotelli has finally scored his first Premier League goal, and it couldn't have come at a better time for Liverpool.
The Italian forward came off the bench and scored an 83rd-minute winner to give Liverpool a 3-2 victory over fellow Champions League hopefuls Tottenham on Tuesday at Anfield. Balotelli was joined on the scoresheet by Lazar Markovic and Steven Gerrard, while Tottenham saw finishes from Moussa Dembele and Harry Kane.
Kane, whose goal was his 10th in as many matches, provided his finish in the 26th minute to undo Markovic's 15th-minute opener. Gerrard's penalty-kick finish was then matched by a close-range effort from Dembele, paving the way for Balotelli's dramatic winner.
With the victory, Liverpool now sits one point behind Tottenham and three points out of a Champions League place.
Here are some more notes to help close out your Tuesday:
ARSENAL MOVE ON TO TOP FOUR BY DEFEATING LEICESTER
It wasn't a vintage performance, but it was enough to move Arsenal back into the top four for the time being.
Arsenal defeated Leicester City, 2-1, Tuesday behind firs-half goals from Theo Walcott and Laurent Koscielny. Leicester's consolation came via forward Andrej Kramaric, who found the back of the net in the 61st minute.
With the victory, Arsenal leapfrogs Tottenham and Manchester United to move into fourth. Leicester, meanwhile, sits in last place, five points away from safety.
SPAIN, PORTUGAL CHALLENGE RULING AGAINST THIRD-PARTY OWNERSHIP
FIFA president Sepp Blatter announced last year that FIFA plans to put an end to third-party ownership, but the ban isn't going over smoothly in Spain and Portugal.
The Spanish and Portuguese leagues have challenged that potential ban to the European Commission, arguing that putting an end to third-party ownership would infringe on league rules and labor regulations.
"The LFP and LPFP trust the Commission will act quickly, starting the relevant disciplinary action against FIFA and reversing the ban on third-party ownership," said the two parties said in a statement.
REAL MADRID SIGN DEAL WITH MICROSOFT
One of the world's biggest soccer clubs has teamed up with one of the world's biggest technological giants.
Real Madrid announced a partnership with Microsoft on Tuesday, with the two sides agreeing to a deal to bring the club closer to fans. As a result, Microsoft will put together an app that will give fans access to videos, images and other information surrounding the club.
"Real Madrid have always been pioneers at the forefront of modern trends," said former striker Emilio Butragueno, "and now we want our fans to feel even closer to the club through a technological platform that will increase their access to information."
QUICK KICKS
Queens Park Rangers picked up their first away victory of the season with a 2-0 win over Sunderland on Tuesday. (REPORT)
Aston Villa fell into the relegation zone after suffering a 2-0 loss to Hull City. (REPORT)
Newcastle's Siem De Jong has undergone surgery on a collapsed lung. (REPORT)
Paris Saint-Germain manager Laurent Blanc insists that he still has faith in striker Edinson Cavani despite recent conflict between the two. (REPORT)
—
What do you think of Liverpool and Arsenal's performances Tuesday? How should FIFA handle third-party ownership? Excited to see Real Madrid's deal with Microsoft?
Share your thoughts below.