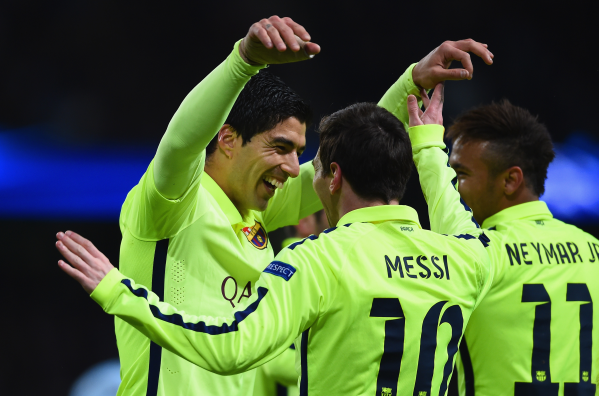 By AARON CRANFORD
A new year, the same scoreline.
In the most anticipated UEFA Champions League rematch, Barcelona and Manchester City produced a 2-1 result, which mirrors the same scoreline these two produced in England in last year's Round of 16.
Luis Suarez looked confident against the reigning English Premier League champions, netting the first two of the evening in Manchester. Barcelona controlled possession throughout the first half, and Suarez blasted home in his first in the 16th minute while scoring his second in the 30th minute.
Barcelona joined Juventus as Round of 16 first-leg winners on Tuesday. The Italian champions posted a 2-1 victory against Borussia Dortmund in Turin. Alvaro Morata set up a Carlos Tevez goal before adding his own finish, though Marco Reus did provide a valuable road goal for Borussia Dortmund.
In Manchester, City made things interesting to start the second half, with Sergio Aguero providing the lifeline for City with his own goal in the 69th minute.
The final minutes were nerve-wracking for both sides. Messi was taken down in the penalty area in extra time, and although he scored a penalty against Joe Hart in one leg of last year's UCL match, Messi could not covert this time around.
The English side will head to the Camp Nou in hopes of upsetting the Spanish giant in the second leg. Man City's Yaya Toure was serving a suspension for yellow card accumulation, and although Toure will return for the second leg, Gael Clichy will miss the match in Spain after receiving his second yellow in Tuesday's match.
Although Hart prevented his side from being two goals down, if history is any indicator, the next match may end in Barcelona's favor.
In Italy, Juventus drew first blood when Tevez claimed the first goal of the match in the 13th minute. Alvaro Morata sent a blazing shot across goal, and when Dortmund goalkeeper Roman Weidenfeller deflected the effort, it fell right into Tevez's path.

Five minutes later, Reus stole the ball away from Chiellini, and in a one-on-one situation with Buffon, Reus gave Dortmund the crucial away goal, leveling the score to 1-1.
But minutes after Andrea Pirlo is subbed off, Juventus find their game winner in the 43rd minute. Alvaro Morata slotted home a Pogba pass, and the Italians walk away from the first leg with the important series lead.

—–
What do you think these results? Think Barcelona win the second leg? See Dortmund making a comeback at home?
Share your thoughts below.