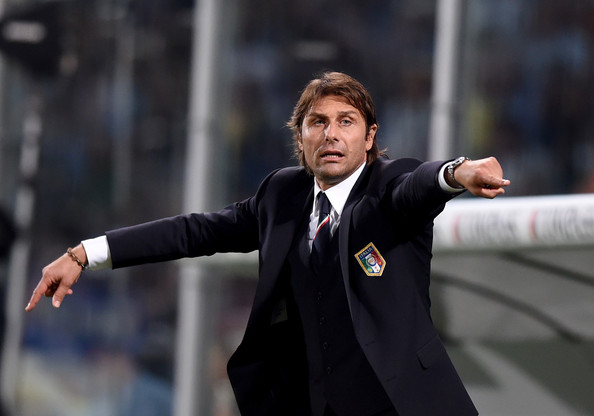 By DAN KARELL
Antonio Conte sought to assure members of the Italian press today that he was not quitting as head coach of the Italian National Team.
Conte held talks earlier on Monday with Italian FA president Carlo Tavecchio over Conte's job status, after having to cancel a number of training camps outside of FIFA windows due to clubs not wanting to release their players.
"I find myself talking about a unique and unexpected situation. I can only repeat what I have always said," Conte told reporters in Italy. "I started on a path with the national team and I am happy with it. I hope this spells the end of all the rumours on whether I'll make it to 2016 or not.
"Let's try working with the knowledge on all sides that there are difficulties, but there is also the enthusiasm to do something unexpected. I'll reach the end of my contract, whether certain people like it or not."
Tavecchio even backed Conte in his position, saying he hopes he can extend Conte's contract past the 2016 European Championship in France.
Meanwhile, an investigation into a match-fixing scandal, which lists Conte among 130 suspects, was closed today. Conte and the other suspects could now face trial, depending on what the Italian public prosecutor decides.
Conte was banned for four months in 2012 due to a match-fixing scandal while he was at Siena, though he has denied any allegations that he took part in any match-fixing.
Here are some more stories to catch you up around the world:
BOATENG SUSPENSION REDUCED TO TWO GAMES
Bayern Munich have been given a slight boost as they'll have Jerome Boateng back in the lineup earlier than expected.
Boateng, who was sent off after 12 minutes of Bayern's last match against Schalke 04 after committing a professional foul on Sidney Sam, had his three-match ban reduced to a two-match suspension by the German FA after a hearing on Monday.
The news means that Boateng will only have to miss this Saturday's game against Hamburg after sitting out last Saturday's game against Stuttgart. Boateng would be eligible for selection on Feb. 21 against Paderborn. He'll likely return to the field on Feb. 17 as well when Bayern takes on Shakhtar Donetsk in the UEFA Champions League.
RODGERS WARNS STERLINGS ADVISORS TO ACCEPT CURRENT OFFER
Brendan Rodgers is set to play hard ball against Raheem Sterling and his array of representatives.
Rodgers told reporters at a press conference on Monday that Liverpool have offered Sterling what the coach termed "an incredible deal," but Rodgers warned Sterling not to try and ask for more than the club would be willing to pay. Sterling's current deal goes through 2017, but the England international is coming off a breakthrough season where he's become a regular in the starting lineup at the age of 20.
"What the club has offered [Sterling] is an incredible deal for a young player," Rodgers said, via the Guardian. "I have spoken to Raheem a number of times. He is very happy here and you see that in his game. What he has been granted at this football club is an opportunity. We see that with lots of young players they are getting the opportunity to play here and they get rewarded for that.
"But we are certainly not a club that is going to give out way, way above what a player is worth at a certain time of his career. It is not a case of giving any player, and I am talking generally here rather than just Raheem, what they want. We want to reward our best talents, they are a big part of our future and we are confident that will all be handled and resolved soon."
KHEDIRA TO MISS THREE WEEKS WITH HAMSTRING INJURY
Real Madrid will be without yet another starter for the next few weeks.
The club have caught the injury bug recently as Sami Khedira will miss up to three weeks of action after hurting his hamstring, according to Spanish publication Marca. Khedira was substituted at halftime after picking up the injury during Real Madrid's embarrassing 4-0 derby defeat to Atletico Madrid.
"Following the medical tests carried out on Sami Khedira by the Real Madrid doctors in the Sanitas La Moraleja Hospital, the player has been diagnosed with an injury to his left hamstring. His progress will be monitored," a club statement on Real Madrid's website read.
Khedira joins the likes of James Rodriguez, Sergio Ramos, Luka Modric, and Pepe on the team's injury list.
————-
What do you think of these reports? Do you see Conte lasting through Euro 2016? Do you agree with his frustration with Italian clubs? What do you think of Boateng's suspension being reduced?
Share your thoughts below.