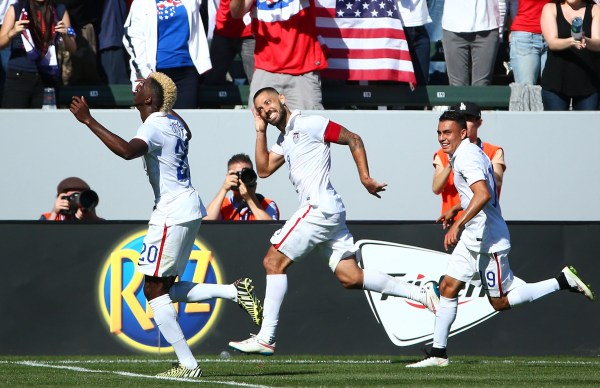 By MARK EDWARD HORNISH
CARSON, Calif. — After five winless months, the U.S. Men's National Team finally put together a full 90-minute performance en route to a much-needed victory.
Led by outstanding play and attractive goals from Michael Bradley and Clint Dempsey, the U.S. took down CONCACAF up-and-comers Panama, 2-0, before a boisterous crowd of 20,217 on a sunny day at the StubHub Center in Carson, California.
Bradley, who had been effective from the start in the attacking third, electrified the crowd in the 27th minute when he scored one of the rarest of goals, an Olimpico, sending his corner kick into the far top corner to and give the Americans a lead Panama never truly threatened.
"We've worked a lot on set pieces over the last six months or year," Bradley said. "One of the ways we try to put pressure on the goal keeper is lining up a few guys right on the goal line. Obviously, as you can see today, the guys around the goalie did a great job, and the ball was not bad, and we got a goal from it."
Dempsey flashed attacking flair throughout the match, and was rewarded when Gyasi Zardes sent him through for a run-in at Panamanian goal keeper Jaime Penedo. With a defender draped on his back, Dempsey still managed to get off a shot, and tapped home past a charging Penedo to double the U.S. lead in the 37th minute.
"Gyasi did a good job of running at the defense," Dempsey said, "and I was trying to create space for him by running in the opposite direction, make a run into space, and see if he could find me. Credit to him, he had his head up, and played a perfect ball."
Indeed, while Bradley, Dempsey, and Altidore linked up often and displayed the class that has earned them leadership roles in the U.S. Men's National Team, it was the newcomer Zardes, enjoying his first start ever on the senior team, who added zest to the American attack. The Dempsey goal was created by Zardes, who gained possession of the ball in midfield, galloped past three Panamanian defenders, and then sliced the Red Tide's center back pairing in half to send Dempsey in for the goal.
"I saw an opportunity to capitalize and step and just go on the counter," Zardes said. "I saw Clint make an amazing run and I just fed him the ball because there was so much space, and I knew he would finish that one."
Zardes' excellent play did not go unnoticed by head coach Jurgen Klinsmann.
"He has a lot of talent, a great attitude, and he's hungry," Klinsmann said. "He showed certain tools, not only his speed, but to hold the ball, to combine. The assist to Clint was just perfect timing.  That shows that he has something special."
It was not all roses for the Americans, however. The back line was tested early, and several breakdowns in communication, as well as errant passes, gave Panama several opportunities on net, which forced starting goalkeeper Nick Rimando to make multiple saves.
Panama's best chance came in the 40th minute, when a careless Rimando outlet pass forced center back Matt Besler to change directions to recover the ball. Besler slipped and fell, and suddenly Blas Perez was alone with Rimando, but Perez misfired wide, allowing the U.S. to maintain their clean sheet on the day.
"It's a work in progress. A lot of it has to do with the fact that we always have a different roster coming into different games," said Klinsmann when asked about his team's defense. "That's what these friendly games are for. You want to try certain things out, see how things work out."
The second half turned into a chippy affair as the U.S. tightened their defense, and Panama saw less and less possession as frustration mounted. Second-half sub Chris Wondolowski found himself in repeated verbal scraps with Panamanian defenders, and ultimately earned himself a yellow card caution for his effort. The game calmed down after the substitutions began, and defender Matt Hedges and midfielder Perry Kitchen both earned their first cap for the USMNT.
"I am obviously pleased to see the team finish off this four-week camp in good style, lot of energy, a great crowd," Klinsmann said. "It was really fun. The January camp is always about shortening their break, giving them a head start going into 2015, to be fit and ready to play a successful year."
The U.S. winter camp concludes on a much needed high note, after struggling through the fall and winter campaign. The USMNT will gather again in Europe in March, when they will face Denmark on March 25th and Switzerland on March 31.