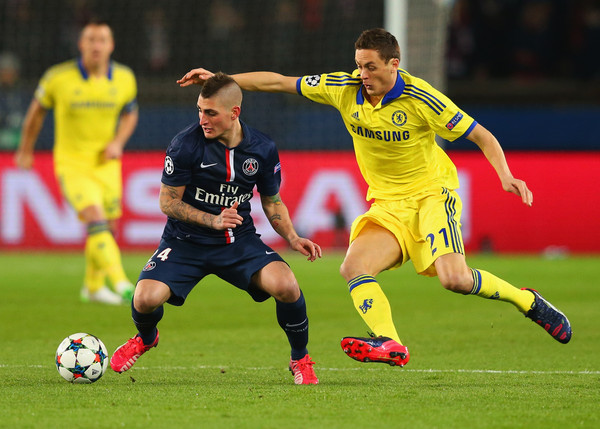 By ADAM TROXTELL
Another first leg in Paris produced another vital away goal for Chelsea.
The Blues head back to London with a slight advantage after drawing Paris Saint-Germain, 1-1, in the first leg of their UEFA Champions League Round of 16 match. PSG tried time and again to break the deadlock after Edinson Cavani headed in the 54th minute equalizer, but they were always met by the safe hands of Thibaut Courtois.
The Belgian kept Chelsea from a potentially devastating result with seven saves, four of which were top quality. He denied Zlatan Ibrahimovic twice from doubling PSG's lead, the latter coming from a close-range header in the second minute of stoppage time.
Courtois also produced magic in the first half to deny a PSG team that took a direct route to goal. Chelsea was more content to relax and work the ball forward, though they were caught off guard by counter attacks that caused the defense to scramble.
As it was, the Blues actually took the lead in the 36th minute through a defensive trio. John Terry's cross from the left was flicked on in the middle of the area by Tim Cahill and headed into the near post by Branislav Ivanovic.
Cavani's equalizer did nothing to change the Chelsea game plan as they absorbed PSG's eight shots on target. The Blues only produced one in return, but it proved vital just like last season when they returned to London against PSG down 3-1 on aggregate in a quarterfinal. This time, the job appears to be an easier one.
Frustration boiled over for Bayern Munich in a goalless draw against Shakhtar Donetsk.
A total of six yellow cards were shown to the German side, two of which went to Xabi Alonso who will now miss the return leg in Munich. Even with a man advantage for 25 minutes, Shakhtar was unable to find the back of the net and only put one shot on goal the entire game.
Bayern was not too threatening in response, holding 59 percent of the possession yet producing two shots on target. Hard challenges and numerous altercations between players seemed to keep the German champions, who only last weekend scored eight in a single game, from applying the finishing touch.
The best chance was perhaps in the 31st minute when Thomas Mueller was found about 14 yards from goal in plenty of space. He stretched for the shot, sending it over the Shakhtar net and out.
Early on, Arjen Robben dragged his shot just wide to spark the trend of the evening.