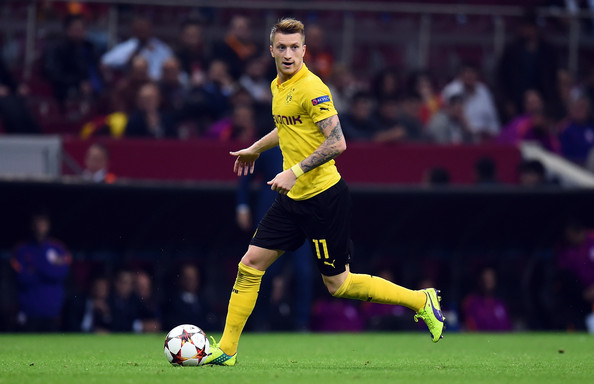 By RYAN TOLMICH
Despite rumors linking him to nearly every major club in Europe, Marco Reus could soon finalize a deal to remain with his current team.
Reus is reportedly close to signing a new deal to remain with Borussia Dortmund, which he has played for since 2012. The German winger's current deal runs until 2017, but Reus can reportedly trigger a $28 million release clause in his contract this summer.
As a result, Dortmund had made Reus an offer to ensure his future remains at the club.
"We have put all our cards on the table," said BVB CEO Hans-Joachim Watzke. "The ball is now in Marco's field."
Reus has reportedly been pursued in recent months by Bayern Munich, Barcelona and Real Madrid, who are said to be willing to double Reus' deal with Dortmund.
Here are some more of Monday evening's news and notes:
GUARDADO SET TO MISS 2-3 WEEKS WITH GROIN INJURY
PSV Eindhoven's Andres Guardado is set to miss out on his side's clash with U.S. Men's National team forward Aron Johannsson and AZ Alkmaar.
Guardado will be sidelined 2-3 weeks after suffering a groin injury in PSV's 3-1 victory over Utrecht on Saturday. The Mexican international could potentially return to the team in time for its Europa League match-up with Zenit St. Petersburg on Feb. 19 or a clash with FC Dordrecht three days later.
PSV currently sits 12 points ahead of Ajax atop the Eredivisie.
KOKE OUT FOR MONTH WITH HAMSTRING INJURY
Atletico Madrid's 4-0 victory over Real Madrid has not come without a cost.
Atletico announced Monday that midfielder Koke is set to miss a month after suffering a hamstring injury in the club's 4-0 victory over its crosstown rivals. Koke is now expected to miss the club's next three league games, as well as the first leg of a Champions League duel with Bayer Leverkusen on Feb. 22.
"Koke has undergone test on Monday afternoon after getting hurt in the opening stages of Saturday's derby," the club said in a statement. "The results have confirmed a Grade II muscular lesion in his right thigh.
"The Spain international will begin treatment and he will continue to be evaluated."
DE BRUYNE FINED FOR SWEARING AT BALL BOY
Kevin De Bruyne's language is set to cost the Belgian a hefty fine.
The Wolfsburg midfielder has been fined $22,000 "for unsporting behavior in the form of extreme sports misconduct" during the team's 1-1 draw with Eintracht Frankfurt on Feb. 3.
The fine stems from an incident that saw De Bruyne swear at a ball boy while attempting to take a quick throw in. De Bruyne, who ended up scoring the equalizing goal, apologized to the ball boy for the incident.
—
What do you think of a potential Reus extension? What do you expect from Guardado this year? How will Atletico handle Koke's absence?
Share your thoughts below.