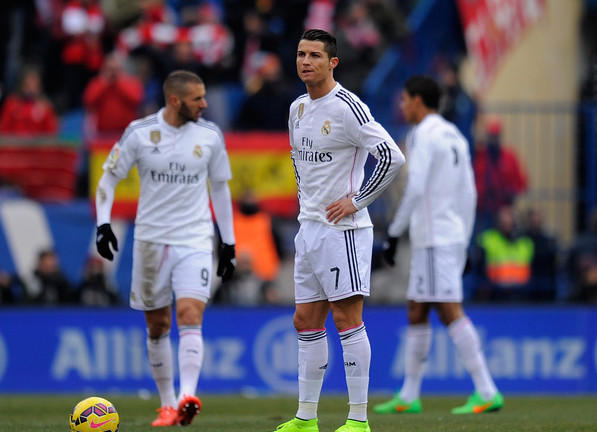 By AYDIN REYHAN
Fresh off an embarrassing defeat at the hands of their crosstown rivals, Real Madrid has a chance to bounce back on Saturday.
Real Madrid is set to take on Deportivo, but the reigning Champions League winners enter the weekend hampered by injuries. Real will be looking to bounce back from a thorough 4-0 loss to Atletico Madrid, which is set to take on Celta Vigo.
In England, the FA Cup resumes, highlighted by a matchup between Liverpool and Crystal Palace. Arsenal will also be in action Sunday against Championship side Middlesbrough.
In other action, Bayern Munich takes on Hamburg, Juventus faces Cesena and Paris Saint-Germain plays Caen.
Here's a closer look at the action across Europe's top leagues this weekend:
SPAIN
Real Madrid will look to bounce back from a derby defeat last weekend as they host Deportivo la Coruna on Saturday. Real defeated Coruna 8-3 earlier this season on the road. The reigning Champions League winners hold a one-point lead atop the table ahead of Barcelona, which faces Levante at home. Pepe, Sergio Ramos, Luka Modric and James Rodrigez will be unavailable for Real.
Atletico Madrid will be on the road against Celta Vigo, trailing Barca by three points and Real by four. A win will keep them paced with the top two in the title race. Their confidence is sky-high after demolishing Real Madrid, 4-0, on home soil last weekend. Antoine Griezmann, Saul Niguez and Mario Mandzukic are the ones to watch on offense as they did almost everything right last weekend for Atleti.
Here's a closer look at this weekend's action in Spain:
Saturday
Sevilla vs. Cordoba
Real Madrid vs. Deportiva la Coruna
Granada vs. Athletic Bilbao
Malaga vs. Espanyol
Sunday
Valencia vs. Getafe
Barcelona vs. Levante
Rayo Vallecano vs. Villareal
Celta Vigo vs. Atletico Madrid
ENGLAND
The FA Cup returns this weekend with fifth-round action as Crystal Palace hosts Liverpool in a game where the visitors are favorites. Mario Balotelli finally broke through in Liverpool's last match, netting his first league goal for the Reds with a late game-winner in a 3-2 triumph over Tottenham in midweek Premier League action.
In other matches, Arsenal will host Middlesbrough while West Brom clashes with fellow Premier League side West Ham.
Here's a closer look at this weekend's action in England:
Saturday
West Brom vs. West Ham
Blackburn vs. Stoke City
Derby County vs. Reading
Crystal Palace vs. Liverpool
Sunday
Aston Villa vs. Leicester City
Bradford City vs. Sunderland
Arsenal vs. Middlesbrough
ITALY
In Serie A, Napoli will look to cut Roma's lead in second place down to one point when they visit ninth-place Palermo on the road. The first meeting ended in a 3-3 draw in Naples, which could bring about a more cautious game this time around.
Juventus will look to increase their seven-point lead atop the table when they visit Cesena. AC Milan will look to climb up to eighth with a victory over Empoli at home. Roma faces Parma while Inter Milan visits Atalanta.
Here's a closer look at this weekend's action in Italy:
Saturday
Sassuolo vs. Fiorentina
Palermo vs. Napoli
Sunday
Milan vs. Empoli
Torino vs. Cagliari
Genoa vs. Hellas Verona
Atalanta vs. Inter Milan
Udinese vs. Lazio
Roma vs. Parma
Chievo Verona vs. Sampdoria
Cesena vs. Juventus
GERMANY
Bayern Munich hosts Hamburg as they look to build on their eight-point lead atop the table. Second-place Wolfsburg will visit Bayer Leverkusen while tying to keep their perfect record alive after winning their opening two Bundesliga fixtures of 2015.
Here's a closer look at this weekend's action in Germany:
Saturday
Bayern Munich vs. Hamburg
Bayer Leverkusen vs. Wolfsburg
Borussia Monchengladbach vs. Koln
Hoffenheim vs. Stuttgart
Werder Bremen vs. Augsburg
Eintracht Frankfurt vs. Schalke
Sunday
Hertha Berlin vs. Freiburg
Hannover vs. Paderborn
FRANCE
Paris Saint-Germain will host Caen with hopes of surpassing Lyon to regain the top spot in Ligue 1. Lyon will host Lorient, a club just two spots from the bottom-three of the table. PSG is coming off a 2-0 French Cup victory over Nantes at Parc des Princes stadium.
Here's a closer look at this weekend's action in France:
Saturday
Paris Saint-Germain vs. Caen
Lens vs. Evian
Lille vs. Nice
Monaco vs. Montpellier
Nantes vs. Bastia
Toulouse vs. Rennes
Sunday
Bordeaux vs. Saint-Etienne
Metz vs. Guingamp
Lorient vs. Lyon