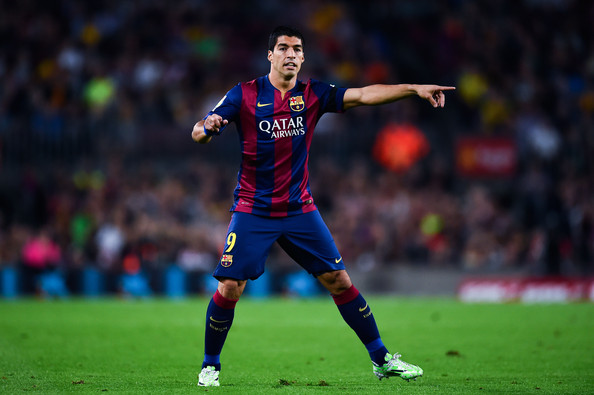 By RYAN TOLMICH
Luis Suarez is a constant lighting rod for media attention, and the controversial Uruguayan has drawn the ire of the English media yet again with another bite claim.
The Barcelona forward, who scored two goals in his side's 2-1 victory over Manchester City Tuesday, was accused of biting yet again by the English media after the forward's head came near defender Martin Demichelis.  The Man City defender was seen extending his arm toward Suarez and UEFA stated that "nothing was mentioned in the [referee's] report, and no action is being taken".
"He [Demichelis] put his hand on my throat," Suarez said on Uruguyan radio."I do not understand why they [the English media] want to do this. They want to make trouble. They must be hurt after what I did to them in the World Cup but they forget that I played in England and they should show me some respect."
Here are some more of Wednesday evening's news and notes:
ENGLISH FA CHAIRMAN PUSHES FOR VIDEO REPLAYS
If English FA Chairman Greg Dyke has his way, video replay will be introduced into the game sooner rather than later.
Dyke is pushing for the introduction of a replay system that would see an assistant referee watch a match vie television while communicating with the head official. The Dutch FA is hoping to trial the system in cup competition, and Dyke says he will support the development at an upcoming meeting of the game's rule-makers.
"I believe we will look back in 20 years' time and say: 'Wasn't it quaint that we didn't use the available technology to help referees'," Dyke said. "I think the referees themselves are now up for trying it out somewhere. Slowly and gradually it needs to be done, as you could disrupt the game completely if you are not careful.
"The Dutch also say they have something which can tell you offsides instantly which could be useful. I hope it will be agreed that we can have a big trial of it somewhere — but we won't put forward the Premier League."
Dutch FA spokesman Koen Adriaanse told Press Association Sport detailed the development further, stating that the replay system will only be used in major situations in an effort to not disrupt the flow of play.
"We are supporters of technology to assist referees in the decision-making process and our first experiences are positive," Adriannse said. "We believe that a video assistant can support a referee in order to make more correct decisions.
"It is only for us in decisive situations — penalties, fouls before goals, red cards — and it is not only there to show wrong decisions, but also to support the referee in decisions that are right."
PARMA PAYING WAY TO TRAVEL TO GENOA
Parma captain Alessandro Lucarelli is a man of his word.
The centerback stated earlier this week that the players were willing to pay their own way in order to make their trip for this weekend's matchup with Genoa. The team is prepared to do just that, although they are yet to find a place to stay.
"We'll go up there in four or five cars," Lucarelli said according to Gazetta. "We'll get there somehow. That's not going to be a problem. We want to play, like we wanted to play on Sunday. All we've got to work out now is where to stay."
Parma's previous fixture was canceled do to the club's ongoing bankruptcy issues. Players and staff have not been paid since summer and the club has changed ownership twice in the past year.
GREECE SUSPENDS PLAY OVER CROWD VIOLENCE
Professional soccer will not be played in Greece until further notice.
Greece's professional leagues have been suspended indefinitely in an effort to crackdown on fan violence. The decision follows a pitch invasion in last weekend's Athens Derby, while a league board meeting ended in a brawl Tuesday.
"What we have been informed is that the Super League and the Football League have been suspended indefinitely," said Super League president Giorgos Borovilos. "We have a new government who are looking to bring this subject up for discussion and implement state laws related to it."
The most recent case marks the third time this year Greece's league has been shut down following previous incidents in September and November.