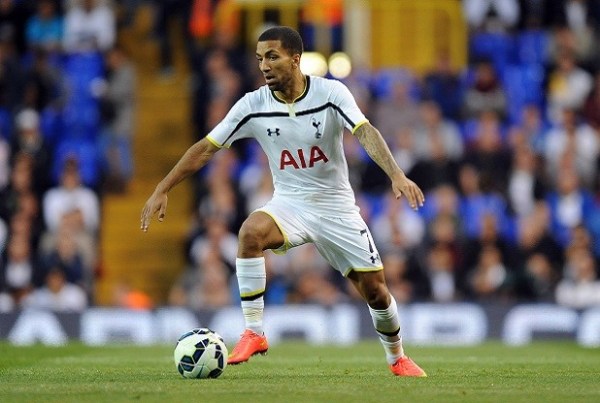 By FRANCO PANIZO
One of Tottenham's longest-serving players is on his way out. Temporarily, at least.
Veteran winger Aaron Lennon has been loaned out to Everton until the end of the season, with the move finalized during the closing hours of the winter transfer window. Lennon has been with only Spurs since 2005 and made more than 270 league appearances since then, but has been limited to just nine games this campaign, mostly off the bench.
Hull City, Stoke City and Queens Park Rangers were all reported to also be involved with talks for the speedy 27-year-old winger, but Lennon elected Everton as the third club he would represent. He previously played for Leeds United.
The Toffees, who are in need of some more offensive firepower, currently sit in 12th place in the Premiership. They have scored just twice in their four games since the start of the new year.
Here are more notes and news items to help close out your Monday:
FLETCHER MOVES ON FROM MAN UTD
Darren Fletcher has said goodbye to the only club he's ever played for.
Manchester United allowed Fletcher to leave on a free transfer on Monday, with the Scottish midfielder joining West Bromwich Albion on a two-and-a-half-year deal. Fletcher, 31, was set to see his contract with the Red Devils expire this summer, but they agreed to let him go without compensation as recognition for his 20 years of service.
Fletcher join Manchester's academy in 1995, and wound up signing a pro deal in 2001. He made his debut in 2003, and has scored 18 goals in more than 200 league appearances.
This season, Fletcher made just four starts in 11 appearances.
COUTINHO REPORTEDLY AGREES TO NEW LIVERPOOL DEAL
While a number of players were making moves to new clubs on Monday, Philippe Coutinho was agreeing to a contract that will see him stay at Liverpool for the foreseeable future.
Liverpool and Coutinho reportedly came to terms on a new deal that will see the Brazilian attacker extend his stay with the Reds until 2020. Coutinho, 22, is expected to sign the deal in the coming days.
Coutinho joined Liverpool two years ago, and has been a regular contributor for the club. He has started 17 of the 20 Premiership matches he has seen time in this season, and contributed two goals.
IBARBO HEADS TO ROMA
AS Roma have tied in four straight league games, but Victor Ibarbo may soon help change that.
Roma announced that it acquired Ibarbo from Cagliari on loan for the remainder of the season. The deal for the 24-year-old Colombian attacker comes with an option for a permanent transfer in the summer.
Ibarbo has two goals in 13 Serie A appearances so far this season, and could play against Cagliari as soon as this Sunday when second-placed Roma pays a visit to Stadio Sant'Elia.
—–
Think Lennon will find regular playing time at Everton and thrive? Surprised to see Fletcher leave Man Utd for good? How smart a move was it by Liverpool to lock up Coutinho to a long-term deal?
Share your thoughts below.