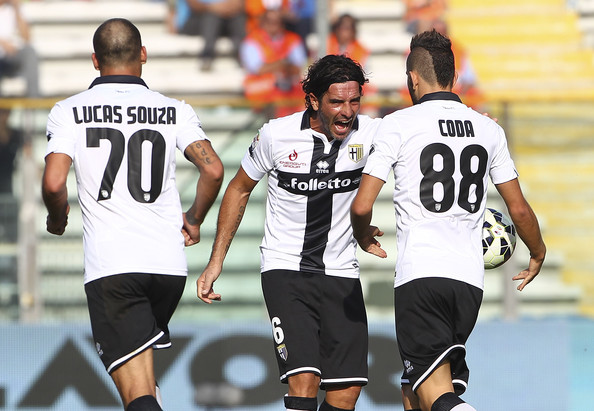 By RYAN TOLMICH
Parma's financial struggles are threatening to put an end to the club, but the team's players are willing to do their part to keep things afloat for the time being.
Captain Alessandro Lucarelli says that he and his teammates are willing to pay their own way for this weekend's trip to Genoa. The club have not paid wages to players or staff since the summer and is on the brink of bankruptcy, prompting the league to postpone last weekend's matchup with Udinese.
"We are ready to play but we want to feel protected," Lucarelli said. "We are willing to pay our trip to the Marassi stadium. If Parma is placed in a condition to play, we will play. The fact that we didn't play on Sunday saddened me, especially the reasons why the game didn't take place.
"Personally, I am prepared to play even if it means in Serie D."
Here are some more of Monday evening's news and notes:
AMBRIZ LEAVES QUERETARO
Queretaro find themselves in need of a new manager.
Ignacio "Nacho" Ambriz has left his role as the club's manager following a string of poor performances. The club, which fell, 2-1, to Monterrey over the past weekend, has picked up just one point from the past five matches.
Queretaro, which was without Ronaldinho due to a stomach issue this past weekend, currently sit in 15th place in the league and have been hampered by an injury to striker Camilo Sanvezzo, formerly of the Vancouver Whitecaps.
The club is reportedly set to name Victor Manuel Vucetich as Ambriz's replacement. Vucetich arrives following stints with Monterrey and the Mexican National Team.
STROOTMAN SURGERY "DID NOT GO PERFECTLY"
In a year riddled by injuries, the news keeps getting worse and worse for Kevin Strootman.
The Roma midfielder underwent surgery for an injured knee last year and then once again in January following a relapse. There is no timetable set for his return, and a former Roma club doctor says the latest complications have come about due to issues in the initial surgery.
"My impression is that the surgery on Strootman's ligament did not go perfectly," said the doctor, Mario Brozzi. "I don't know what happened to his knee, but his Cyclops syndrome results from a problem in the ligament's position.
"The cartilaginous damage is determined by the extensive deficit. Now, if this is the situation, I see no way out. But it's not up to me to say whether further surgery is needed."
QUICK KICKS
Mateo Kovacic and Mauro Icardi contributed goals as Inter Milan topped Cagliari, 2-1, for the club's third straight victory. (REPORT)
Napoli topped Sassuolo, 2-0, to move within three points of second-place Roma. (REPORT)
Thorgan Hazard has signed a deal to remain at Borussia Monchenglabach through 2020. (REPORT)
Former France international Alou Diarra has signed with Charlton Athletic. (REPORT)
James Milner trained with Manchester City on Monday and will be fit to face Barcelona in Champions League action. (REPORT)