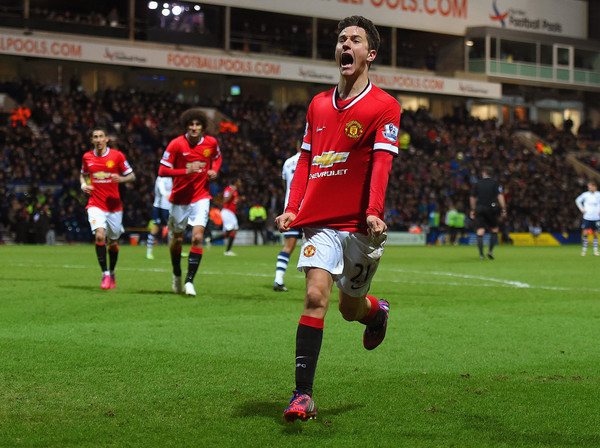 By RYAN TOLMICH
Preston North End was able to wrestle the lead from Manchester United early in the second half, but the Red Devils proved too dominant to hold down.
Man United came from behind to pick up a 3-1 victory over their League One opposition Monday at Deepdale.
Following a scoreless first half, Preston opened the scoring two minutes into the second through midfielder Scott Laird, who was booked in the ensuing celebration. Man United equalized 18 minutes later on a finish from Ander Herrera that saw Wayne Rooney in an offside position before Marouane Fellaini added a second seven minutes later.
Rooney added a third from the penalty spot in the 88th minute to ensure Man United's spot in the sixth round.
Here are some more of Monday evening's news and notes:
ARSENAL DRAW MAN UNITED, LIVERPOOL GET BLACKBURN IN FA CUP
Manchester United's reward for Monday's victory over Preston turned out to be a home game against the FA Cup's reigning champions.
Arsenal will travel to Old Trafford for the quarterfinals of the FA Cup after the Gunners took care of Middlesbrough on Sunday by a 2-0 scoreline. Fellow top four hopeful Liverpool also learned its fate, as the Reds host the Championship's Blackburn Rovers.
This year's Cinderella, Bradford City, who boast wins over Chelsea and Sunderland, face off with Reading. Finally, Tim Sherwood and Aston Villa look towards a Midlands Derby against West Brom.
FA CUP SIXTH ROUND DRAW:
Liverpool v Blackburn Rovers
Bradford City v Reading
Manchester United v Arsenal
Aston Villa v West Bromwich Albion
MONTERREY NAME MOHAMED HEAD COACH
Antonio Mohamed has won the Liga MX title with each of his prior two clubs, and now Monterrey is hoping he can repeat the feat with his third team.
Monterrey announced Monday that the club has hired the Argentine, who has previously won the Liga MX title with Club America and Tijuana. Mohmed's hire comes just two months after the coach claimed the league's crown with America.
Currently in 17th place, the club parted ways with previous manager Carlos Barra on Sunday following a 2-0 defeat to Puebla. Barra's ousting had been imminent for weeks after fans have been protesting the coach's performance.
BLANC WARNS PSG NOT TO GET RILED UP BY MOURINHO
Few coaches play the mental game better than Chelsea manager Jose Mourinho, prompting Paris-Saint Germain boss Laurent Blank to give his players a warning.
Blanc has warned his players, specifically midfielder Marco Verratti, about the Portuguese coach's mind games when the two powerhouses collide this week in the Champions League knockout stages.
"I know José Mourinho a bit, and I know he'll raise the temperature on the pitch in this game," Blanc said. "So my players need to be cold, they need to be calm, and they mustn't react even when it is hot out there on the turf.
"They must stay calm and cold. We can't afford any more yellow cards. It's a real test for Marco, but I think he has matured and will cope with it."
—
What did you think of Manchester United's victory? Who do you see as the favorite in the FA Cup? How will Mohamed fare with Monterrey?
Share your thoughts below.