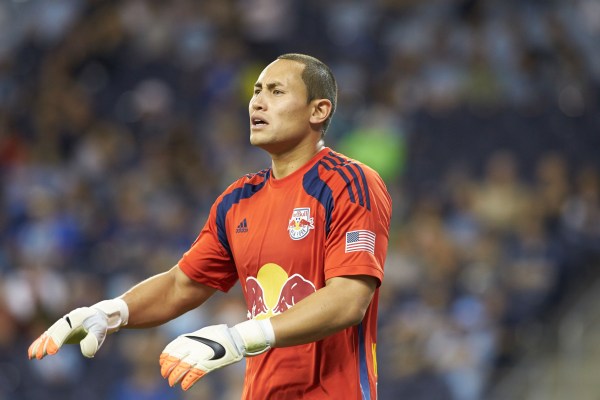 Photo by Gary Rohman/USA Today Sports
By FRANCO PANIZO
Real Salt Lake owner Dell Loy Hansen might think that free agency discussions are a waste of time, but the MLS Players Union is far from agreeing on that point.
In the wake of recent comments from Hansen that stated that discussing MLS free agency is pointless given league's single-entity structure, a players union representative has vowed that it intends to stay the course with what it wants from this round of collective bargaining negotiations.
That means that free agency is still among the chief issues — other forms of player movement and higher finances are others — that needs to be addressed if the MLS season is to start as planned a week from Friday.
"Economics play a big part, don't get me wrong, but we're more fighting for the idea that we can choose," New York Red Bulls goalkeeper Luis Robles told SBI. "Every other job in America has this ability to go out into the market, put in your resume and, if you have a few different job offers, weigh which one is best for you, best for your family, and then you can go out (and make a decision).
"Then there's also this idea that that leverage exists, that the market dictates your value and all these things don't exist right now and if we continue the current system then I think players will continue to fall into a situation where the league determines what their value is. Even though they need a guy that plays 27 out of 34 games and is playing 2-3 positions, but because the league doesn't deem you to be one of their marquee guys, even though other teams are willing to pay a premium for you, you're always going to be stuck in a situation of what the league says and what the league thinks.
"That's why we're so adamant about pursuing free agency and it's important that the people on the outside — the fans, the media — understand that, there is an economic part, but the bigger issue is that we should be able to go onto a market and let the market dictate what we're worth."
MLS and the players union have been at a standstill for weeks with regard to free agency. Both parties will convene in Washington D.C. on Sunday to talk about that and other issues, marking the first time since early December that all the player representatives and key officials will be in the same room together and in an open-table setting to hash out the details for the next CBA.
There is a lot of distance that needs to be covered before a deal is reached, however.
"I feel like it goes both ways and if both parties can continue with the idea that a settlement needs to get done and that needs to be achieved, then in the end it could be a very positive result," said Robles. "But I think where we stand is the same place where we stood a couple of years ago, and we'll continue to do whatever it takes to find some form of free agency — it may not be exactly what we thought in the very beginning — but these things have a way of evolving."
What forms of free agency could work and how they could be implemented is something both MLS and the players will need to try and figure out in the coming days in order to prevent a work stoppage. With it being crunch time in terms of CBA discussions, talks are sure to ramp up and concessions are likely to be made on both sides.
In fact, the players are not opposed to negotiating different terms of how a free agency system in the league could work, but they are adamant and unified about wanting changes to the structure.
"I still believe that we're open to interpretation, as long as the league is willing to meet closer to the middle," said Robles. "Right now, it's still pretty in their position that they're going to maintain their core values and they're going to do this. Listen, we're not trying to disrupt the momentum that's occurred over the last two decades. Major League Soccer is a fantastic product, and will continue to be a great product, and will continue to be a very prominent league, and I believe when Don Garber says that this could be a top league in 2022. That's why foreigners keep reiterating this point.
"It's not like it was 10 years ago where someone comes and says, 'These guys don't know what they're doing,' and even five years ago these kind of questions about quality or professionalism. Now we've got everything that it takes and there is a part in the financial side, but we're not doing anything to disrupt what's already become an incredible product. We want to continue the growth and popularity of soccer in this league, but we also have a responsibility and even a privilege in this moment to sit here and evaluate our position and how we can make it better for generations to come."
For now, the players will continue with their preseason preparations. They are hoping to start the 2015 campaign on time, but that will only happen if free agency becomes a part of the MLS landscape.
"It's become very real," said Robles. "That's exactly how I started my meeting with the [New York Red Bulls players] yesterday or two days ago. I said, 'Hey, it's about to get real,' and everything that we spoke about is preparation for the fact that they're going to throw whatever it takes at us to break us and make us think that this is impossible and I needed them to be very open and honest in where they think we stand, what we can endure, what is worth fighting for.
"After hearing everyone's opinion, I still think the general consensus is still the fact that if there is no form of free agency — I don't know if you want to call it unrestricted, restricted; there's a lot of confusion with those terms — but if there is no way to see what you're worth on the open market, then we should strike. Of course, the economics play a part because obviously it's how much cap space is there for you to get anywhere and that is an important part.
"But right now for us it's this ability to choose, ability to choose where we want to go instead of the league mandating, 'Hey, this is where you go,' or allocating us to a certain club. This is something that exists all throughout America. This is something that most people get to experience or have the ability to experience. Yet this league is the only league in the world that has this system set up so that players are not able to do that."