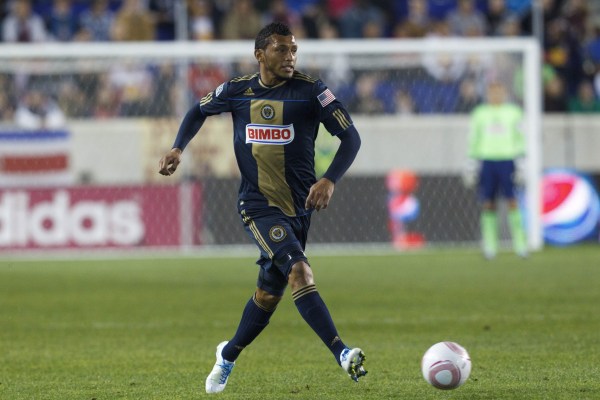 Photo by Jason O. Watson/USA Today Sports
By ADAM TROXTELL
Amid reports defender Carlos Valdes has packed his bags, Philadelphia Union head coach Jim Curtin indicated things aren't quite done yet.
Ahead of Philadephia's opening preseason game on Saturday, Curtin said negotiations over Valdes are still ongoing. Uruguayan club Nacional de Montevideo announced on Thursday that Valdes will be joining them on a one-year loan deal in the coming days.
"Nothing is finalized, but we will do what is best for the player and the club," Curtin said on a conference call Thursday. "The next couple of days will go a long way toward the direction we're taking. We do have things lined up for whatever happens regarding Carlos."
Valdes has spent four seasons in Philadelphia, becoming a mainstay in defense and even captaining the team in 2012. He went back to his native Colombia in 2013 on a loan deal to former club Independiente Santa Fe and did not register a single MLS appearance that year.
Curtin said he was happy to have Valdes back to make eight appearances toward the end of last season, but it is clear the defender is now looking away from PPL Park.
"I wanted him to come back and contribute as we made a playoff run last season," Curtin said. "Carlos had a few games, and by his own admission they weren't his best."
As any deal for Valdes is finished up, Curtin said the club will be looking to strengthen the defensive area.
"The center back position is one that I value highly; I played it," Curtin said. "You need your leader back there, because it's someone who can really see the field."
Here are more Union preseason news and notes:
STILL IN MARKET FOR A STRIKER
One area of the team Curtin feels positively about is the attack, regardless of how it might change.
He said he was impressed by the play of C.J. Sapong, who Philadelphia acquired in an offseason trade with Sporting Kansas City. He also highlighted Cristian Maidana's impact during an intrasquad scrimmage at the club's Clearwater, Fla., training camp on Wednesday.
"Usually it's the other way around where attacking is the part that struggles and the defending is solid," Curtin said. "C.J. has given us the element of letting us hold up the ball, and he's so dangerous in front of goal."
Philadelphia is still in the market for a striker, Curtin said, particularly since its interest in Wigan attacker Andy Delort fell through. With both Sapong and Conor Casey operating as a strong, central forward, Curtin said that may impact who the Union add to the squad.
"We'd like to add a piece up top," Curtin said. "We've discussed a different type of striker, though C.J. can run, too. That has affected the type of guy we're targeting."
ACADEMY PRODUCTS JOIN TEAM IN FLORIDA
Along with the first team players, the Union have some academy stars at their Florida training camp.
Curtin said he thought it was important for young players to get a taste of what it's like for the first team. He also had particular praise for young striker Sebastian Elney, who will join the team at camp soon.
"He has all the tools to be a great striker in our league," Curtin said. "As he gets thrown in with our first team, it's a good challenge for him. I think it's important to have our academy players down here. We'll have more guys in and out."
Academy players Derrick Jones, Yosef Samuel and Sean Wilson have also taken part in training camp.