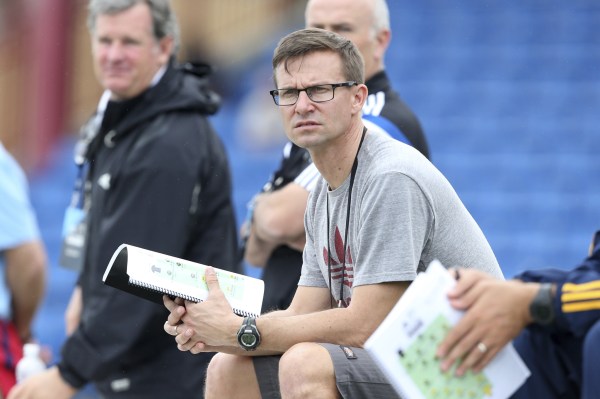 Photo courtesy of Andy Mead/MLS
By FRANCO PANIZO
CHAMPIONSGATE, Fla. — A glut of central midfielders and lack of options out wide and up front has left many New York Red Bulls fans curious as to how exactly new head coach Jesse Marsch intends to deploy his team this season.
After weeks of ambiguity, we now have a better idea.
The Red Bulls are a little more than a week into their 2015 preseason preparations, and already the club is beginning to delve into what Marsch wants to do from a tactical standpoint. Since his surprise appointment as New York manager, Marsch has talked publicly about implementing a "dynamic" and "uptempo" style, but has not provided much in the way of details.
It's been clear from the moves the Red Bulls have made, however, that Marsch and new sporting director Ali Curtis are putting an emphasis on the middle of the field. They have not only added veterans Sacha Kljestan and Felipe Martins in recent days, but also drafted a promising prospect in Leo Stolz, making the central midfield position the deepest on the squad and the one that will largely determine the system the club uses this season.
"I think at times our midfield will look like a 4-2-3-1. I think at times it will look like a 4-1-4-1, a 4-3-3," Marsch told SBI from the Red Bulls' training camp just outside Orlando. "There will be malleability to how we do things. The interesting thing I've seen already is I've thrown a lot of new things at this group and it's a smart team. There's a lot of smart players on the field.
"Guys like Dax (McCarty), Felipe and Sacha, you can already see the intelligence of those three guys sort of in the middle of the field. How we use Felipe, how we use Sacha, not totally certain yet."
Marsch added that he will deploy a four-man back line, identifying fullbacks Chris Duvall and Roy Miller by name while saying that the centerback options were still being sorted through. Marsch also said that wide midfielder Lloyd Sam was being asked to do more than be a one-on-one player, and that 2014 MLS Golden Boot winner Bradley Wright-Phillips is best served playing alone up top.
With Luis Robles a shoo-in at goalkeeper, the only other uncertain starting spot is on the left side. Projected left winger Ambroise Oyongo was traded in the deal that both brought over Felipe and paved the way for Kljestan's arrival, but Marsch rattled off a number of options when asked about that area of the field.
"I look at Sacha as a strong possibility out there," said Marsch. "I look at Sal Zizzo, I think he's been very good, and I look at (trialist) Mike Grella as even a guy we can tilt out there. I think we're not really sure yet where all those guys will play out, but there's some flexibility there in order to use different guys out in that spot."
Here are more notes from Red Bulls camp:
FELIPE, ARMANDO, ZUBAR NOT IN ATTENDANCE
The Red Bulls have almost a clean bill of health at this early point in the preseason, but three players are still missing from the squad.
Felipe, Ronald Zubar and Armando did not travel with the club last week and have yet to join their teammates in Florida. Felipe and Zubar are both waiting for their visas and are expected to arrive soon, but Armando's future with the club is not as certain.
The Spanish centerback, who is the only one of the three absentee players who was with the Red Bulls last season, is in the midst of trying to determine whether his future lies in New York. Early indications point to that not being the case — he was left off the initial preseason roster, his No. 5 is being worn by trialist Mike Grella, and he has published some eyebrow-raising tweets in recent days — but Marsch said there is a chance Armando makes his way back to the club.
"Armando, we're trying to figure out if it fits, how it fits, and if it doesn't, what his next opportunity might be," said Marsch. "It's obviously not quite the same level as what we went through with (Tim) Cahill, but I think we're trying to help him figure out what it would be like to be here, but also what other opportunities might be out there for him."
CAPTAINCY STILL BEING DECIDED
The Red Bulls are in transition. Not only because of the recent coaching and front office changes, but because the team has lost two of its bigger locker-room presences.
With Designated Players Thierry Henry (retired) and Tim Cahill (released) having left the club this offseason, New York is currently without a de facto captain. There are several influential veterans who are worthy candidates, but Marsch does not sound all that close to naming who will wear the armband this season.
"There's two things," said Marsch. "We're going to have sort of a leadership group that is going to contribute. It's going to be more than one guy. It's going to be a group of five, six, seven guys that are going to invest themselves all the way as if they're all captains. We're going to make sure that that is engaged in the right way and that they take ownership of this.
"There's probably five candidates that would all be pretty good, and I'm kind of going to give each guy a taste of it and allow them to accept the leadership and then make a decision. It won't be an easy one, but I find that these things sort of figure themselves out."
While Marsch did not specify which players he is considering, some of the more likely options are McCarty, Robles and Kljestan.
MIAZGA OUT AT LEAST ANOTHER WEEK
Matt Miazga will not be partaking in any part of this opening phase of preseason.
Miazga arrived to the Red Bulls' camp on Monday, but is still nursing the injury he suffered while training with sister club RB Leipzig last week. The 19-year-old centerback is not expected to participate in practice for at least another week, ruling him out for the entirety of the first part of the Red Bulls' preseason and prolonging his wait to begin training and learning Marsch's preferred system.
"I'm hopeful that it's a week away, might be a little bit longer, but we need to get him going, too, and get him fit," said Marsch. "I'm counting on him this year, too, in a big way. I would like to see him establish himself as a starter."
—–
How do you think the Red Bulls will and should lineup? Is Armando as good as gone? Who will be New York's captain for the season opener?
Share your thoughts below.