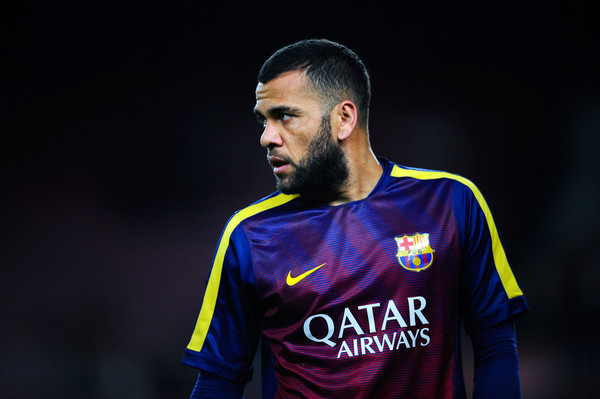 By RYAN TOLMICH
Dani Alves has been at Barcelona for seven years, but the club's lack of action regarding his contract situation has left the Brazilian "sad."
Barcelona is currently in the midst of a transfer ban and — despite the inability to add new players — appears willing to let Alves depart the club. Alves' deal is set to end in June, which means he is free to discuss a move with other clubs.
"Disappointed is not the word," said Deborah Santana, Alves' agent. "Yes, we did expect there would be some contact, but this is not a disappointment. We are more sad than disappointed. There has not even been any move made.
"Dani is there at Barca, the normal thing would be for them to say if they want to renew or not," she added. "We are not going to put pressure on for them to offer a new contract. He has been there for seven years, it is not up to us to pressure anyone."
Here are some more news and notes to kick off your Friday morning:
CHELSEA ISSUES APOLOGY TO RACISM VICTIM
Chelsea continues to take steps to address the racist acts of a group of its traveling fans.
Ahead of the club's meeting with Paris-Saint Germain midweek, a group of Chelsea fans racially abused and harassed a local black man, identified as Souleymane S., barring him front entering the train. Three men have been identified and could be issued life bans after already receiving suspensions from attending the club's matches.
"I'd like to make clear, on behalf of everyone at the club, our disgust at the incident. We were appalled by what we saw," a club spokesman said in a statement.
"The club would also like to apologize unreservedly to Souleymane for the behavior of a small number of individuals and their unforgivable action towards him. We're writing to him to apologize and to invite him to come to a game as our guest."
In addition, Jose Mourinho made sure to address the incident in Friday's press conference, condemning the actions while also insisting he is a proud member of Chelsea.
"We feel ashamed but maybe we shouldn't because I refuse to be connected with these people," Mourinho said. "I'm connected with Chelsea and the many good things this club defends. I left Chelsea in 2007 and I couldn't wait to be back.
"I felt ashamed when I knew what happened, but I repeat I'm a proud Chelsea manager because I know what this club is."
WENGER UNCONCERNED BY CAZORLA DEPARTURE RUMORS
Arsene Wenger says he doesn't have any fears about Santi Cazorla departing the Emirates for Spain.
Cazorla has been linked with a move to Atletico Madrid in recent weeks, but Wenger insists that the midfielder still has at least two more years with the club.
"He extended his contract last year. I think he has still two years to go," the Arsenal manager said. "He was just 30 years old. He has two years to go.
"You know our policy at the club, so I don't think there's anything special to worry about there. The suggestion is only a suggestion. We have never been approached by anybody about him."
Wenger went on to discuss just how valuable Cazorla has been this season, as the Spaniard has been one of Arsenal's most consistent players.
"Until now he has been maybe the most consistent — he has been voted player of the month twice in the last two months which means he has been remarkably consistent," Wenger said. "Since he has moved centrally his influence on the team has been bigger as well."
QUICK KICKS
Inter Milan manager Roberto Mancini has criticized his team's complacency after conceding a late equalizer in the team's 3-3 draw with Celtic on Thursday. (REPORT)
Tottenham have won a battle in court to secure land to be used for construction of their new stadium. (REPORT)
Jack Wilshere is set for his return after missing time since November due to ankle surgery. (REPORT)
Jay Beatty, an 11-year-old Celtic fan with Down's syndrome, has been awarded Scotland's Goal of the Month award with 97 percent of the vote. (REPORT)
—-
What do you think of Barca's choices regarding Alves? What do you think of Chelsea's handling of the situation? What do you expect from Cazorla and Arsenal going forward?
Share your thoughts below.