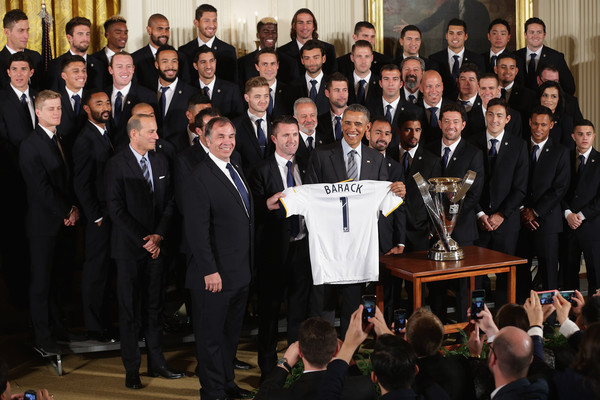 By DAN KARELL
For the second time in three years and third time in four years, the LA Galaxy paid a trip to the White House to celebrate their MLS Cup title with President Barack Obama.
The Galaxy, sans Landon Donovan, were welcomed in the East Room of the White House along with the NHL's Los Angeles Kings, and not only Donovan, but Omar Gonzalez, Robbie Rogers, 2014 MLS MVP Robbie Keane, head coach Bruce Arena, and Brazilians Leonardo and Juninho, were named dropped by the President.
President Obama saved special recognition as well for Rogers, who in 2013 became the first openly gay athlete to play in one of the big five professional sports in the USA. Obama lauded Rogers, who revitalized his career as a left back, for "blazing a trail" for others as an openly gay athlete.
"My guess is that, as an athlete, Robbie wants to win first and foremost — that's what competition is all about," Obama said, via the Office of the Press Secretary. "But, Robbie, you've also inspired a whole lot of folks here and around the world, and we are very proud of you."
President Obama also commended the Galaxy for their work in the community, including the Galaxy's work serving meals to more than 2,000 families on Thanksgiving and building a soccer field in South Los Angeles for youngsters to use.
The President noted that as of 2015, America is finally starting to embrace soccer as a national sport.
"I was just telling these guys backstage the degree to which they represent their sports so well, and America is starting to realize what the Beautiful Game is all about," Obama said. "And it is wonderful to see not just what's happening at the highest levels of professional sports, but how legions of young people are going to be continuing the traditions here in the United States with soccer for many years to come."
——–
What do you think of this news? What do you think of President Obama's comments?
Share your thoughts below.