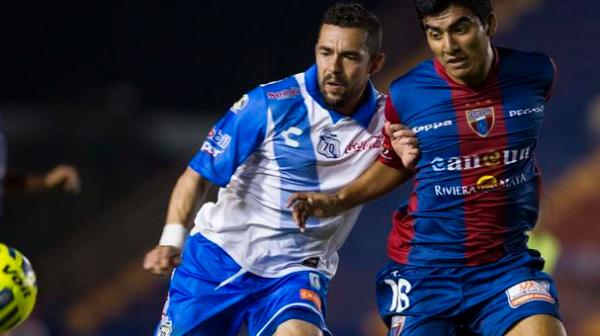 By FRANCO PANIZO
Puebla suffered its first defeat in Copa MX on Tuesday, but it was not for a lack of effort from Herculez Gomez.
Gomez scored twice to try and inspire Puebla to its latest Group 5 victory, but the club was handed a 4-3 loss by Toluca. Gomez equalized on two separate occasions in the road game, netting on strikes in the 25th and 39th minutes, but Toluca kept finding ways to take to the lead before putting the match out of reach.
The 32-year-old forward scored both of his goals after making good runs in behind the defense. He first pushed home a bouncing ball with an aerial kick before finishing a low shot with authority on a 1-on-1 opportunity. The two goals gave Gomez four in as many Copa MX appearances for the Camoteros, and five in all competitions.
The loss, which saw Gomez's teammate Cuauhtemoc Blanco sent off in the final minutes, tarnished Puebla's unbeaten record in the competition. The club is now 3-1-1 in Group 5, but remains in first place and is looking likely to grab a spot in the next phase of the tournament.
You can see both of Gomez's goals and all the game highlights below:
[youtube http://www.youtube.com/watch?v=0aqGPc9BFAI]
—–
What do you think of Gomez's two-goal performance? Impressed with his runs and finishes? Is there a chance he could make a U.S. Men's National Team comeback in the near future or do you think that ship has sailed?
Share your thoughts below.