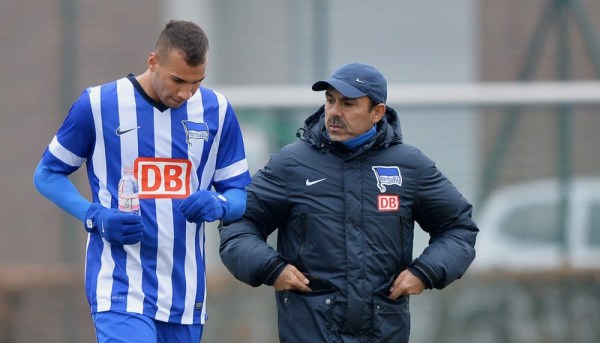 By RYAN TOLMICH
After finally seeming to earn the admiration of his manager, Hertha Berlin and U.S. Men's National Team defender John Brooks will need to impress a new boss on the club level.
Hertha Berlin announced Thursday that the club has parted ways with manager Jos Luhukay. The manager, who took charge of the club in 2012 and led the club into the Bundesliga, saw his team fall into the relegation zone with a 1-0 loss to Bayer Leverkusen on Wednesday, prompting the club to make a move.
"Hertha Berlin would like to expressly thank Jos Luhukay and his assistants Markus Gellhaus and Rob Reekers for the very successful cooperation in recent years," the club said in a statement. "Together, promotion to the Bundesliga was masterfully achieved and the year after we comfortably ensured our survival."
Brooks and Luhukay had a very up and down relationship in recent months, as the USMNT defender was benched by his manager in September for inconsistency. Brooks also earned his coach's ire in April after missing time after getting a large tattoo on his back.
The two appeared to have gotten closer in recent months, as Brooks regained his place and prompted Luhukay to say he was "world class."
"That was the Brooks I have always wished for. I am delighted for him," Luhukay told the Berliner Kurier following Brooks' performance in a Dec. 13 victory over Borussia Dortmund. "I have had my battles with him, but we have always been honest with each other, and that's why I am just delighted."
Luhukay has been replaced on an interim basis by former Hertha Berlin midfiedler Pal Dardai.
—
What do you think of Luhukay's dismissal? How will Brooks fare the rest of the season?
Share your thoughts below.