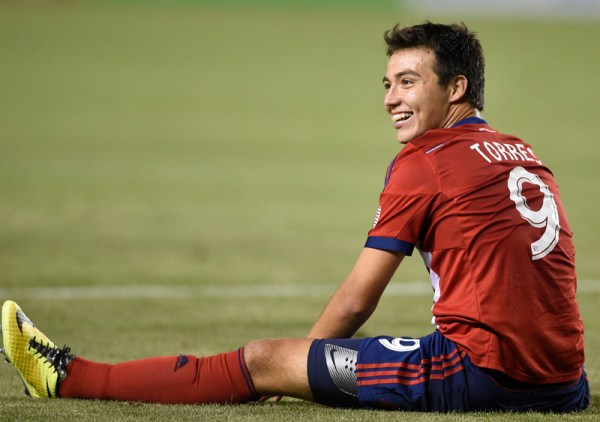 By AARON CRANFORD
Erick Torres donned the Dynamo orange earlier this afternoon, and the club hopes that they can have their designated striker wear it on the field sooner rather than later.
Torres, who made a late appearance for Chivas Guadalajara in Saturday night's 1-0 defeat against Santos, arrived in Houston Sunday for an impromptu press conference.
Torres was transferred to the Dynamo with the inclusion of a loan stint that could last up to six months, but Dynamo president Chris Canetti suggested ways in which Torres could join them earlier than anticipated.
"There's an opportunity to get him here before May 13 depending on how things go down at Chivas. If not, then we have to wait for the [July] window to open," Canetti told the audience in Houston. "We have terms in our contract that I can't disclose that indicate when the loan can end. It's got moving parts to it. We've got scenarios that work for us to get him here earlier.
"We're hoping very much that things could fall in our favor and contractually the loan can end and we can get him here before the window closes."
With Chivas fighting relegation, the Dynamo forward has seen little time in the Liga MX Clausura season, and the Dynamo remains optimistic that they can have their latest designated player before his loan is set to end.
"I know I haven't had a lot of minutes, but I've been doing everything I can to train hard and work hard at training," Torres told the media. "I've been playing a lot in Copa MX and that gives me some minutes that allow me to stay at a good level in terms of soccer and on the field."
But Torres does not mind waiting for his chance to shine for the Dynamo.
"I'm very motivated and very grateful for the effort from the Dynamo front office," Torres said. "Now I just have to be patient in the next five or six months to deliver results to repay them for all the attention they pay to me."
——
Do you think Torres' loan spell with Chivas will end early? When do you think he will suit up for the Dynamo?
Share your thoughts in the comments below.