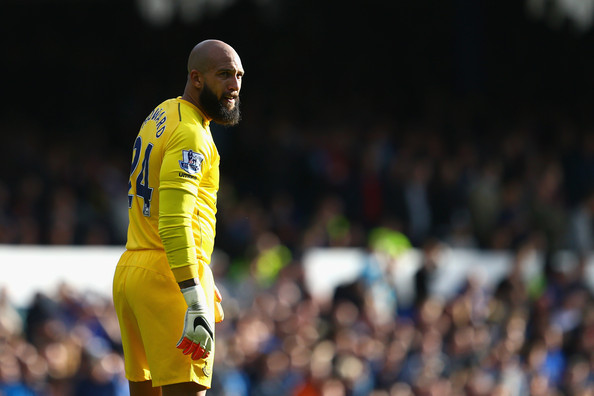 By CAITLIN MURRAY
After nearly two months sidelined, Tim Howard is poised to make his return for Everton this week.
The American goalkeeper is fully recovered from a calf injury sustained during a loss to Stoke City in December and could feature as soon as Wednesday, when Everton visits Chelsea, according to coach Roberto Martinez.
"Tim has been working really well," Martinez told reporters Tuesday. "Yesterday, he trained well. He's fully fit now for any sort of game."
"Whenever Tim is fit, he's our No. 1 for the experience that he has and what he represents to the squad. I've got total faith in him."
In Howard's place, 24-year-old Joel Robles started in Everton's last eight matches, recording shutouts in their last three against West Brom, Crystal Palace and Liverpool. But Martinez said that while Robles has a bright future ahead, a fit Howard is his first choice.
"Goalkeeper is not like any other position," Martinez said. "I do feel that the outfield positions are more about moments of form, ways of playing against the opposition and different ways of approaching games. In goal, you need stability."
Wednesday could be a big return for Howard as 12th-place Everton will take on Chelsea, the leader on the Premier League table.
Howard, 35, has taken a year-long hiatus from the U.S. Men's National Team while continuing his club career.