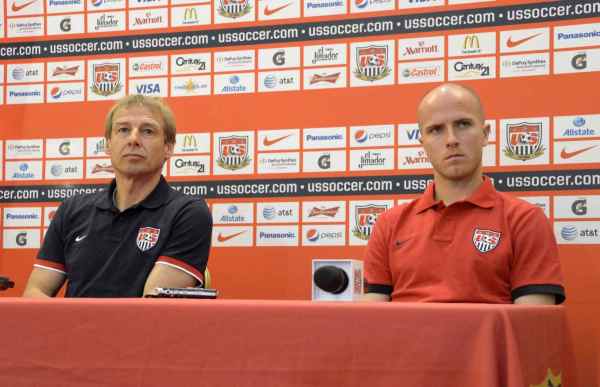 By RYAN TOLMICH
Michael Bradley has worn a number of hats while playing for the U.S. in recent years. The Toronto FC midfielder is sometimes asked play atop the midfield, while at other moments Bradley has been charged with playing from a deeper role.
Klinsmann says, ideally, Bradley will stay more in the middle of the field, giving the centerbacks more responsibility with playing the ball out of the back. However, Klinsmann also reiterated that roles are fluctuating depending on the personnel and talent available at the time.
"When we adjust things on the field, Michael goes higher up or comes a little bit further back, we try to balance things out," Klinsmann said. "We see him in that half position, ideally, like he played a couple of times like Mexico last April. This is really a role where he can connect with the forwards, the attacking players can play those penetrating balls, the killer passes as we call it and maybe even finish himself.
"We don't want to see him come back and pick the ball up from the centerback; we want the centerback to open up the game and stuff like that. We're working on that, but it depends also on who is next to him. Is it a more defensive minded player, a more passing player, a more offensive minded one? There are a lot of pieces to the puzzle guys."
In addition, Klinsmann targeted March's games, which will see the MLS stars united with the international group, as a chance to put together a team more suited for Klinsmann's ideal vision.
"That preference comes through once we have the entire roster together," Klinsmann said. "That means once we go into March games, that's when the Europeans come in and the Mexicans come in and suddenly the whole picture changes. Then we will work on the final pieces."
KLINSMANN HAPPY TO SEE ALTIDORE, BRADLEY UNITE AT TFC
While Klinsmann has been fairly critical of MLS during his time as U.S. manager, he is finding positives in Jozy Altidore's move to Toronto.
Altidore, who joined TFC last month, will now get the chance to play and train with Bradley week-in and week-out, which Klinsmann sees as a major benefit to the national team.
"Oh definitely," Klinsmann said when asked if he thought Altidore's partnership with Bradley would prove fruitful. "I think definitely when there are a couple of guys on the same club team, it always helps because they're looking after each other and pushing each other like it was with DeAndre (Yedlin), Brad Evans and Clint (Dempsey). I think it's a very good thing. It helps and you can give them the messages both at the same time."
SHEA DEVELOPMENT AT LEFT BACK REMAINS A 'PROCESS'
Break Shea scored a goal in his first appearance as a left-wing back in Chile, but Klinsmann insists there is still plenty of work to be done by the Orlando City player.
Klinsmann says Shea, like Yedlin, still has things to learn about defending, but the German insists that Shea's attacking aspect will be an asset from a deeper position.
"You can see him as a left winger in a 3-5-2 which is a different position or you can see him as a left back. With left back, obviously, he needs to learn a lot," Klinsmann said. "He needs to learn how to defend, how to approach wingers, how to close the gap on the centerback, all the stuff we talk also with DeAndre Yedlin, which is a process.
"I think he definitely has the mind to learn that and his will to do it. When he comes out from a different position, he might be better off because once he picks up his pace, he's difficult to stop with his physical approach to it. It will be an interesting process that he's going to go through."
—
Where do you think Bradley performs best? What do you expect from the young players in Sunday's match-up with Panama?
Share your thoughts below.