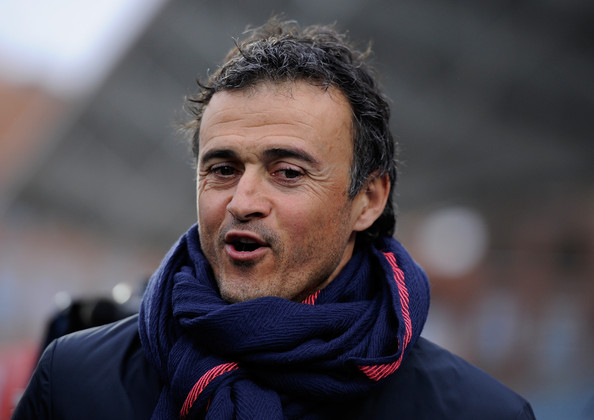 By RYAN TOLMICH
As arguably the best player in the game, Lionel Messi has plenty of clout in the Barcelona locker room, but according to Gerard Pique, it's not as much as many think.
Following a reported dust-up between the manager and his star, rumors have swirled that Messi is running the show rather than manager Luis Enrique. Pique insists that his manager remains in charge of the team.
"There is no dressing room without arguments," Pique said. "Luis Enrique and Messi had an argument, but it is all over now, and there is no need to go back over it. The relationship with Luis Enrique has always been good and friendly.
"Luis Enrique is in charge more than Messi, of course. He is the coach, the boss, although Leo carries a lot of weight in the dressing room."
Here are some more news and notes to kick off your Friday morning:
SCHOLES CRITICIZES MAN UNITED'S LACK OF ATTACKING DESIRE
Paul Scholes is one of the more revered players in Manchester United's history, but the former midfielder could not be less enthused with his former side's current playing style.
Scholes says that Manchester United is too obsessed with keeping possession, leading to what Scholes called "miserable" games due to the team's lack of desire on the attacking side of things.
"It does not give me any pleasure to say that at the moment I am struggling to watch Louis van Gaal's team with any great enjoyment," Scholes said. "At times, United's football is miserable. To beat opposing teams you have to attack, and to attack you have to take risks.
"Too few of the players in the current team are prepared to take those risks. Angel Di Maria has taken more risks than any other player and, unfortunately, for him it has not worked out."
Scholes went on to compare the current team with his teams of the past by stating his former Red Devils sides would concede as many as necessary as long as they earned three points.
"We were not reckless, or naïve, but always the chief aim was to attack – and we backed ourselves to outscore the opposition," Scholes said. "I do believe that a club's ethos, the principles of how it plays, should outlive even the biggest individuals in its history.
"United are about attacking football, and everything else has to takes its place behind that."
HENRY, ZIDANE TO BE HONORED BY FRANCE
Thierry Henry and Zinedine Zidane are among those set to be recognized for their contributions to French soccer.
The pair will be joined by Patrick Viera and Marcel Desailly on the field ahead of France's March 26 friendly against Brazil. The four French stars will be honored for eclipsing the 100 cap mark and will be given a special homage by the French Football Federation.
"We're going to honor all the players who have more than 100 international appearances," said FFF president Noel Le Graet. "There will be a ceremony at the stadium before the game and they will go on the pitch."
The move to honor Henry, France's all-time leading scorer, comes following a movement in France that is aiming to see the former New York Red Bull star represent the country one more time on the international level.
QUICK KICKS
Gibralter is set to go to the Court of Arbitration in an effort to be recognized by FIFA in order to qualify for the 2018 World Cup. (REPORT)
Tottenham's Harry Kane and Southampton's Ronald Koeman have been recognized as Premier League Player and Manager of the Month, respectively. (REPORT)
West Ham forward Andy Carroll has been ruled out of action for up to six weeks after suffering a torn ligament in his knee. (REPORT)
France has extended to contract of manager Didier Deschamps until the 2018 World Cup. (REPORT)
—
What do you think of Scholes comments? What do you expect from Manchester United through the remainder of the season? Would you like to see Henry represent France one more time?
Share your thoughts below.